FUTURE DENTAL PROFESSIONAL PROGRAMME , MCODS, Manipal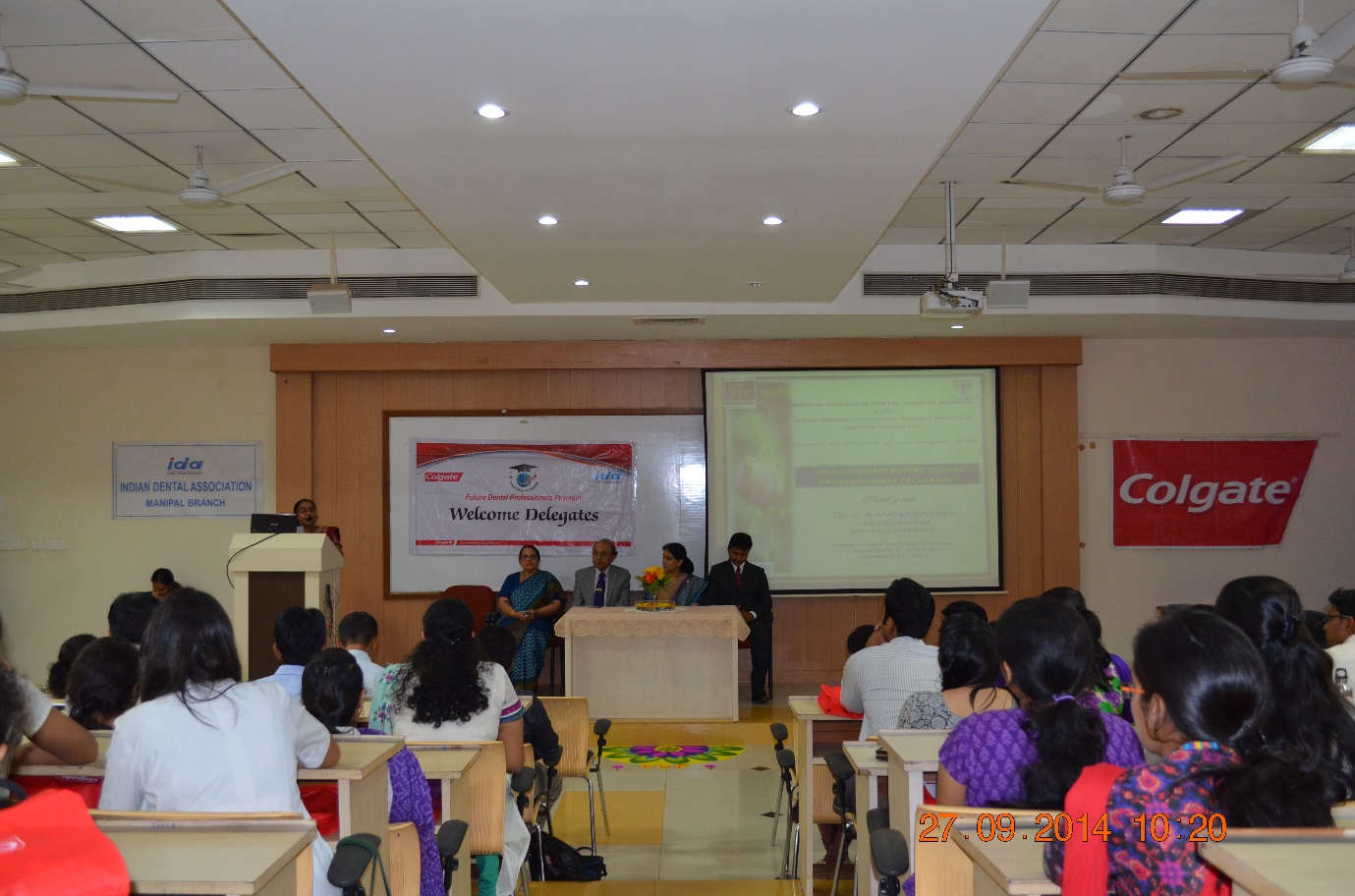 Future dental professional (FDP) programme is a scientific lecture series conducted annually for the last four consecutive years by Indian dental association, Manipal Branch in collaboration with Colgate. This is a learning platform mainly intended to expose our budding dental professionals to a wider array of knowledge base and its clinical applicability. This year, FDP programme was organised by Manipal IDA branch under the leadership of Dr Pratibha Panduranga, Professor, Department of Periodontology ( President, IDA  Manipal branch). Dr Vineetha R, Associate Professor, Department of Oral Medicine and Radiology was the programme convener.
 As a part of the FDP programme, an E- poster competition was held for undergraduate and postgraduate students on 24th September 2014 in collaboration with Colgate. Dr Arun Urala, Professor and HOD, Department of Orthodontics  was the program co-ordinator for this event. There was overwhelming response and active participation from the students.
FDP scientific lecture series was conducted on 27 September 2014 at the centre for Basic sciences. The chief guest for the inauguration ceremony, Dr Ram Narayan, Vice Chancellor of Manipal Academy of Higher Education inaugurated  by lighting the lamp  and inspired the  gathering with his words of wisdom. It was followed by the felicitation of guests, resource persons and the judges for E- poster competition by Mr Mahesh and Mr Basavaraj, Colgate Representatives who are the official sponsors for all the IDA events.  The prestigious Colgate IDA awards for Batch toppers   were distributed by the respected Vice Chancellor.  Winners of E-poster competition were awarded by Dean, Dr Nirmala N. Rao and Associate Dean, Dr Keerthilatha M Pai.  Dr Meena Anand, Associate professor, Department of Periodontology who is the Honorary  Secretary, IDA Manipal Branch briefed about the IDA activities of this tenure. 
The lecture series were conducted at different venues simultaneously which was tailored for the specific audience. Dr Sridhar N (Associate Professor, Pedodontics) Dr Shashi Rashmi Acharya (Professor, Conservative Dentistry and Endodontics)  Dr Betsy Thomas (Professor, Periodontology) , Dr Keerthilatha M Pai (Professor, Oral Medicine and Radiology)  were the resource persons  for 1st, 2nd, 3rd and 4th  year BDS students respectively. Dr Shashidhar Acharya (Professor, Public health dentistry)and Dr Veena Hegde (Professor, Prosthodontics and Crown and Bridge) were the resource persons addressing interns and faculty audience.  The lectures were enlightening and was followed by Hands on and video demonstration.  There was active participation from the audience and whole hearted co-operation from the volunteers, thus the program was smoothly conducted and successfully ended.