World AIDS Day Celebrations-2017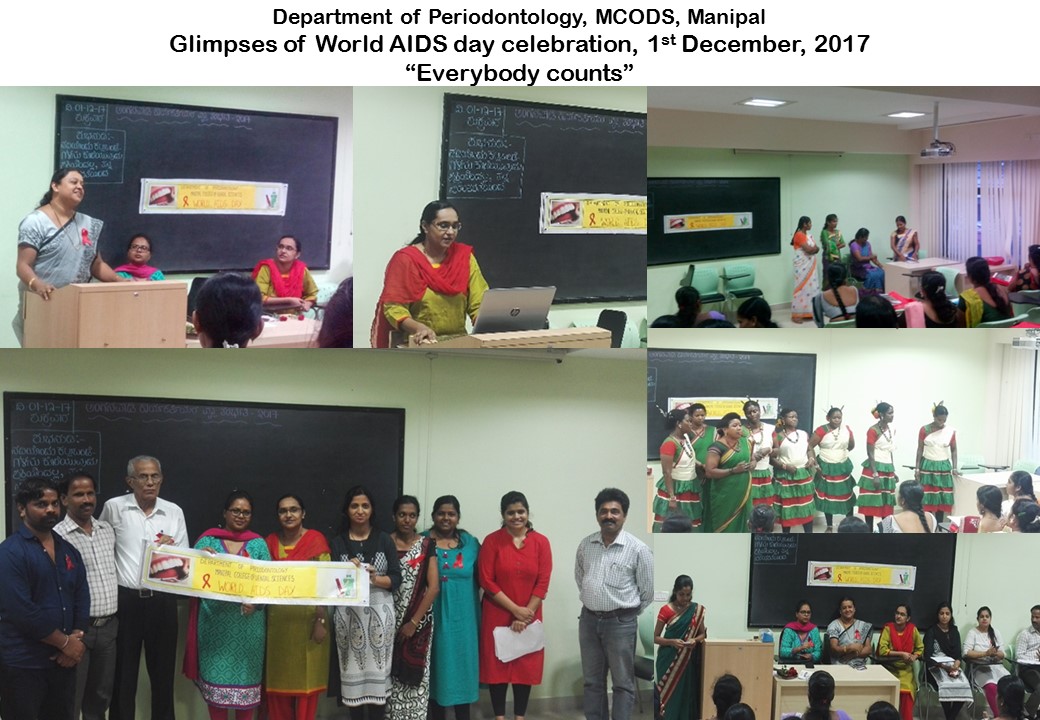 DEPARTMENT OF PERIODONTOLOGY,
ANGANWADI TRAINING CENTRE, AND ICTC, KMC, MANIPAL
World AIDS Day Celebration
1st December, 2017
World AIDS Day takes place on the 1st December every year, to show support for people living with HIV, and to remember those who have succumbed to the disease. This year's campaign by the WHO on World AIDS Day 2017 promotes the theme "Right to health" under the slogan "Everybody counts", to ensure safe, effective, affordable medicines, and other health commodities as well as health care services for all people in need.
In this regard the Department of Periodontology, MCODS, MAHE, Manipal, Anganwadi Training center, and ICTC, KMC, Manipal jointly organized a community program to educate Anganwadi workers about AIDS, with an emphasis on its relation with oral health and provided awareness on the various health care facilities and financial schemes available.
Mrs. Lavanya, Anaganwadi worker, welcomed all the guests. To mark the occasion, Mrs. Anuradha Technical officer, SRL, KMC, Manipal, Chief guest for the program gave an insight on myths and realities associated with AIDS, in India. She educated the Anganwadi trainees regarding preventive measures and modes of transmission of AIDS.
Mr. Ishwara, Principal, Anganwadi Training centre, Manipal, highlighted the significance of the celebration of World AIDS Day. He stressed the importance of awareness regarding AIDS and its importance in the health care sector.
 Dr.Pratibha G, Professor and Head, Department of Periodontology, presented an overview of the oral manifestations of AIDS. The Anganwadi trainees were informed about recognizing these early oral changes and encouraged to seek treatment at the right time.
This was followed by Mrs. Geetha and other Anganwadi trainees performing a skit on creating awareness regarding AIDS.
The highlight of the program was the performance by artists of the group, "Hanchemol Siddhi Samskrithika Kala Thanda, Gadagher, Uttar Kannada." They depicted the social scenario about knowledge of AIDS in rural settings, through their musical dance drama. Their performance evoked a very positive response from the audience and was much appreciated as they conveyed a powerful message that 'Every AIDS patient has a right to health.'
The program ended with the vote of thanks by Mrs.Shobha, Anganwadi Trainee. Dr. Meena Anand, Associate Professor, Dept. of Periodontology and Mrs Anuradha G, Counsellor, ICTC presented certificates to the participating teams of about Anganwadi trainees.