kannaDa maataaDi- A mini workshop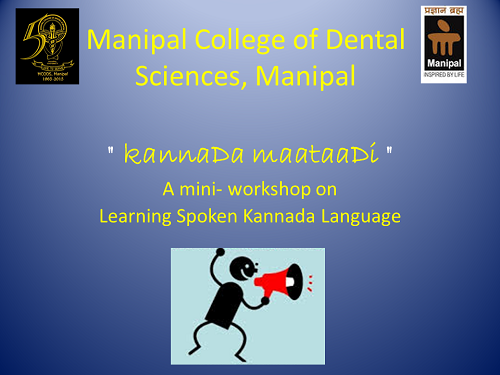 kannaDa maataaDi - A Mini Workshop on Learning Spoken Kannada Language.
Language is often seen as a potential resource of humans. It helps us to express our feelings, moods, choices, decisions and is the soul function of our forms. In Manipal we all are exposed to different cultures, beliefs, food. Being able to understand a different language has its own benefits but in the health sciences profession, a language plays far more important role. It develops a bond of trust, psychological confidence and satisfaction between the patient and the doctor.
So, the faculty of MCODS, Manipal came forward and conducted spoken Kannada classes for their budding young dentists. It was a three day program of one hour every day. The very first day, our faculty members conducted a role-play which stressed upon why the learning of the language is so important. It played a very crucial role in inculcating the interest among the students. Also, the students were introduced to the basic words pertaining especially to dentistry and also words from day to day conversation.
In the second session, students were taught to make sentences by using correct tense and grammar. Continuing in the third session, the students were given a small test where the faculty members acted as patients and the students were asked to take their case history. Although the students were not perfect but they could understand what was ailing the patients. Also, e-handouts were given to the students to help them learn and understand better.   
There was a very positive response from the students since they developed an approach and interest in the language. They were seen to be more receptive to the patients now.