Research day in collaboration with the KMC Mangalore
On the 20th of February, 2016, the MCODS Mangalore MUSRF hosted its first Research day in collaboration with the KMC Mangalore MUSRF. The event received an outpouring of interest with many participant and observers eager to be a part to be a part of Research day. The day was inaugurated at 10:00 am with eminent guests Dr. M.V. Prabhu, Dean, KMC, Mangalore, Dr.Unnikrishnan, Associate Dean, KMC, Mangalore, Dr. M. Chakrapani, Associate Dean, KMC Mangalore and Dr. Ashita Uppoor, Associate Dean, MCODS, Mangalore.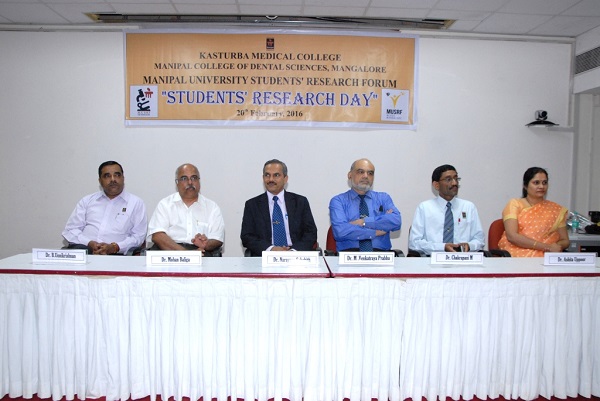 The awardees of various research grants were presented with certificates for their achievements. Recipients of the ICMR research grant Sanchitha Chandar, Madhura Sen, Sreevidhya Iyer, Shilpi Sanghvi and Ayushi Bajoria were presented with certificates.
The event had various postgraduate and undergraduate categories. Poster presentation was met with a large crowd of participants. The competition was judged by Dr. Bharath Prabhu and Dr. Prashanth Shenoy. The postgraduate winners were Dr. Richa Gupta and Dr. Ankita Sharma. The undergraduate category winners were Shreya Bhatia and Madhura Sen.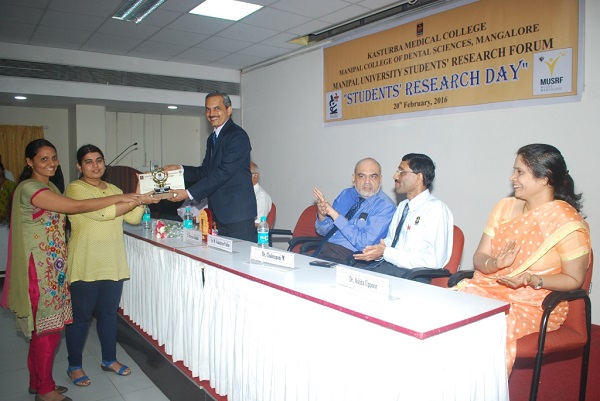 There was also an oral paper presentation for both postgraduates and undergraduates. After the presentation of many enlightening research papers the judges, Dr. Nandhini Manjunath and Dr. Rekha Shenoy presented Ayushi Bajoria with the award for best undergraduate paper presentation. Judges Dr.Biju Thomas and Dr. Pushparaj Shetty awarded the prize for postgraduate paper presentation to Dr. Utkarsh Mangal.
There was also an innovation presentation held in collaboration with KMC Mangalore which saw winner Dr. Kamakshi Alekhya, Dr. Gayathri, and Dr. Chakradhar Sana from MCODS, Mangalore. Following a brief break, an enlightening talk on Meta Analyses and systematic review was given by Dr. Unnikrishnan and Dr.Sreekumaran Nair. The valedictory ceremony was held with chief guest Narayan Sabahith and esteemed guests Dr.Unnikrishnan, Dr.Chakrapani, Dr. Mohan Baliga, and Dr. Ashita Uppoor. Awards were presented to all the winners. Vote of thanks was given by Sanchitha Chandar, MCODS Mangalore MUSRF president. With this, the eventful Research day came to an end.