School Dental Health Programme at Lourdes Central School
Program: School Dental Health Programme Date: 20th November 2015 Time: 8.30 to 9.30 AM Venue: Lourdes Central School, Bejai, Mangalore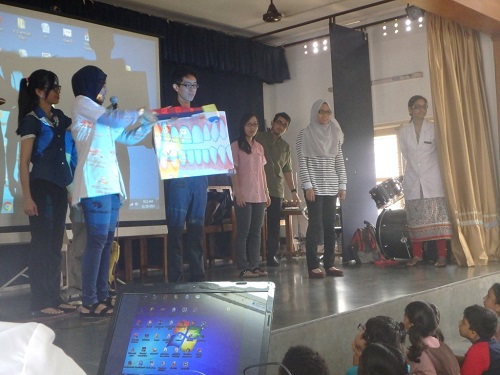 Total number of 200 Children from 1st, 2nd and 3rd standards participated in the program with their teachers. Program started with enthusiasm and spirit filled big Yes! from little children when they were asked by their teacher if they want to meet the doctors who care for their teeth. We were welcomed by the class teacher's welcome address along with the claps and smile of the little angels. Almighty's blessings were sought by a beautiful prayer by the students of Lourdes Central School, following which stage was set for dental education by an interactive entertainment program. Post graduate students educated children regarding various aspects of oral hygiene practices through playing a video skit, singing song and showing a cartoon. Interns did a beautiful role play with great enthusiasm. Audience were then grouped into small batches and brushing method was demonstrated by post graduate students.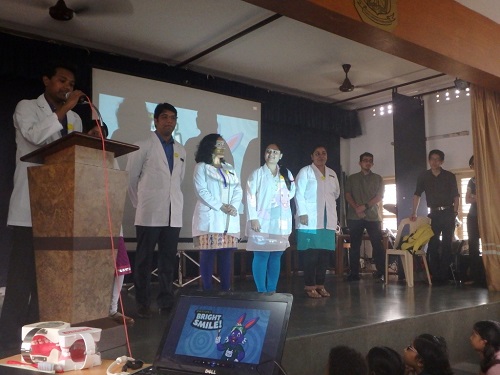 This short and sweet program ended with vote of thanks by Dr.Vignesh Palanisamy. Dental team consisting of 1st and 2nd year Post graduate students of the department and interns posted in the department was headed by Dr. Ashwin Rao, Associate Professor and Dr. Karuna Y M, Assistant professor. The Program was planned and supervised by Dr. Arathi Rao, HOD.  The principal and the administration of the school expressed their happiness through a beautiful thanks giving card and tasty snacks.
Hope programs like this improves the bond between the teachers, children, Doctors, Department and the Institution.