Preconvention Hands-on-Workshop...
The Department of Periodontology, MCODS Mangalore hosted pre-convention workshop and national level quiz competition as part of the 13th Indian Society of Periodontology National Post graduate Convention from 7th to 9th March, 2014.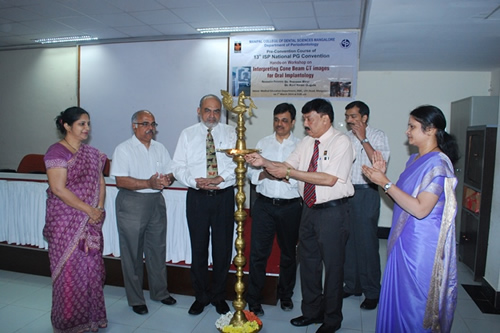 The preconvention workshop titled "Interpreting Cone Beam CT Images in Oral Implantology" was held at the Medical Education Department, KMC Mangalore, Light House Hill Road on 7th March, 2014. The program included a lecture on the basics of Implant Imaging as well as hands-on training on the Imaging System as well as Implant Planning using the software. 40 postgraduate students from various colleges in India participated in the workshop. Dr Praveen Birur, Professor and Head, Department of Oral Medicine and Radiology, KLE Society's Institute of Dental Sciences Bangalore and Dr Ravikiran Ongole, Professor, Department of Oral Medicine and Radiology, MCODS Mangalore were the resource persons.
The quiz competition "Perio quiz" was conducted at the KS Hegde Medical College, Nitte University, Derlakatte, Mangalore. The preliminary round was conducted on the 8th of March after which 5 teams were selected for the final round. The final round was held on the 9th of March and was conducted by Dr Ashita Uppoor, HOD, Department of Periodontology, MCODS Mangalore.