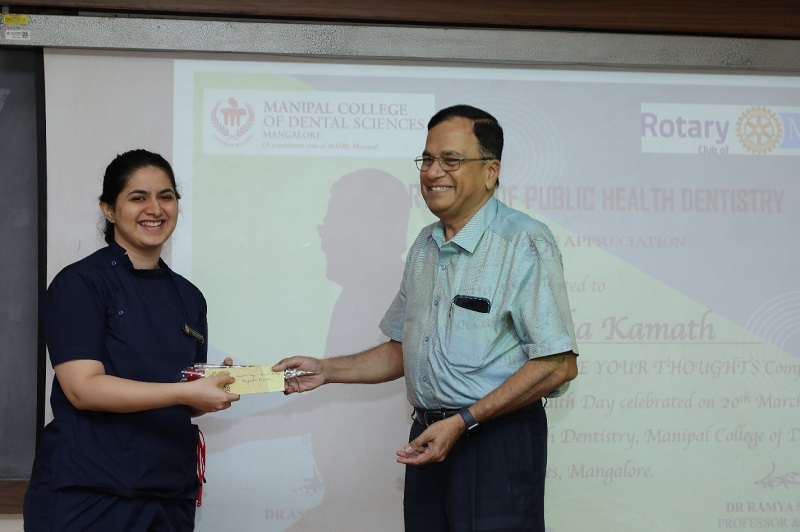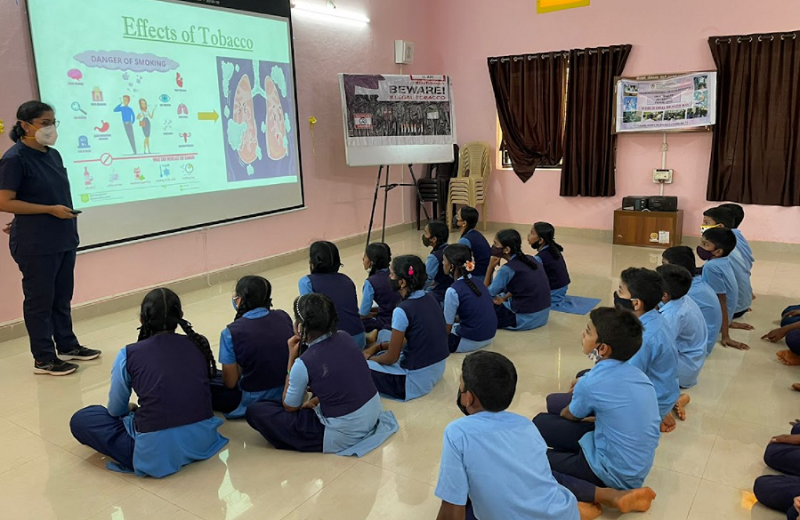 World Oral Health Day was celebrated to empower people with the knowledge and tools to secure good oral health. The campaign theme for this year was "Be proud of your mouth". It was celebrated in order to inspire change by focusing on importance of oral health.
This event was organized by Department of Public Health Dentistry, MCODS, Mangalore in collaboration with Rotary Club Mangalore, Karnataka. We organized competitions for the dental students as well as school oral health education and preventive programs to increase awareness regarding oral health.
To explore the perspectives of the emerging new-age dentists about oral health and its importance, the two competitions organized for dental students included:
·         REELS competition focusing on the theme "Be proud of your mouth"
·         Short essay competition on the topic "What we give back to the society as dentists?"
Oral Health Promotion in the form of dental screening and oral health education programs was conducted by the Department of Public Health Dentistry, MCODS, Mangalore in six schools in and around Mangalore.
1.    Chinmaya High School
2.    Navachetana High School
3.    Govt Primary School, Bejai
4.    Nalanda High School
5.    Ramashraya English Medium School
6.    Govt High School, Bikarnakatte
Along with oral health education, preventive programs were conducted in St. Agnes Primary School and DKZP Higher Primary school, Gadiyara. Health education for the students from class 1 to class 10 was undertaken. The health talk focussed on creating awareness on oral health and tooth brushing techniques. The students were also made aware of the ill effects of tobacco and were urged to abstain from its use. The sessions were interactive and the students actively participated in them.
Each student's oral check-up was done and a parent information form was given to each student, that provided information to the parent on the oral health status and treatment requirements of the child.  It was seen that the students lacked awareness on proper oral hygiene practices and there was a general lack of awareness on the correct brushing techniques. The students were provided a demonstration of the correct brushing technique and were asked to emulate the same. The students raised queries on what was the right time   to visit a dentist, what had to be done if teeth decayed. All the queries of the students were addressed.The programme concluded with an interaction and reiteration by the students of the oral hygiene measures learnt. The students responded enthusiastically and participated well.
The event was concluded with a valedictory function where the chief guest was Dr. Narendra Kamath representing the Rotary Club, Mangalore. The valedictory function included the prize distribution for the competitions and was attended by the Dean, Dr. Laveena (representative NOHP, Mangalore, Karnataka), Heads of Departments, camp coordinators, faculty, interns and students.