The Annual Seminar and Awards Ceremony for Manipal Student Research Forum,MAHESRF MCODS Mangalore was held on 22nd June 2018.MAHESRF Stepped into its 3rd year on this day with the advent of a new council . This day witnessed a large gathering of undergraduate students with a talk on "Oral Cancer - Primitive Screening And Early Diagnosis" by the very renowned Dr Praveen Birur , who was also the Guest of Honor for the event. Dr Dilip G Naik, Dean MCODS, Mangalore was the chief guest and graced the audience by his wonderful speech on how important is Research to widen our horizon in terms of education.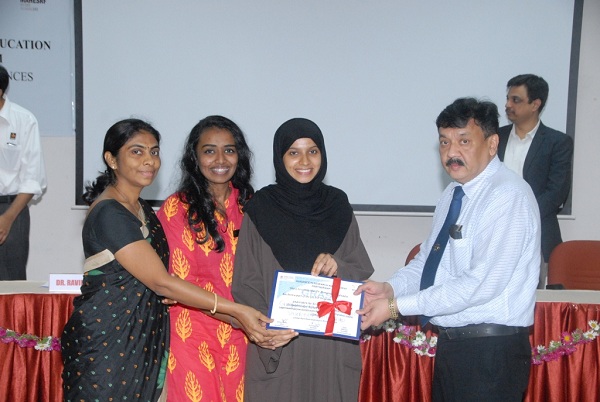 The laurels in Research work from the college were Felicitated with an award. The hardworking Research Coordinators and Associates were also given a token of appreciation. The Annual Report was given by Aastha Todi, President followed by a brief description by Viral Dave , Vice President, on his experience of an International Conference at ISCOMS.A pre research grant was also announced on this function , a grant named " Dr Joe V Mathew Memorial Research Seed Fund " for all undergraduate students aspiring to flourish in the field of research.The new elects were Declared by Dr Ravikiran who takeover as the new team comprising of :
1) Paavas Sharma - President
2) Rashi Bhasin - Vice President
3) Avi Pavha - Treasurer
4) Vidushi Gupta - Secretary
5) Abhinav Kathuria - Joint Secretary
The event summed up by a elaborate talk on cancer detection and various possibilities of diagnosis of Oral carcinoma - vividly by Dr Praveen.MAHESRF targets to organise more interesting and interactive events for its members in years to come .