The Department of Forensic Medicine and Toxicology, was established in the year 1967, for training the students of MBBS in the Legal aspects of medical practice. The department received the permission for conducting medicolegal autopsies from the Government of Karnataka, in the year 1991 and is been rendering medicolegal services to the Karnataka State Police since then. The department is now the nodal reference centre for the Karnataka State Police, and is been appreciated by the police department in various occasions. The Post graduate studies were started in the year 1987, since then 53 students have been trained in the subject and obtained MD degree. The department has well equipped labs, classes, dissection hall and a well-organised museum. It has a full-time operational staff library, a large student laboratory, spacious demo room with LCD projectors which can comfortably accommodate more than 70 students at a time.
There are FIVE medico-legal experts currently in the department including the HOD, all the faculty are involved in training the undergraduate and postgraduate students along with the medicolegal responsibilities. The department uses innovative learning methods like self-learning modules, integrated teaching and interactive sessions.
There is a separate mortuary block with modern equipment and a capacity to undertake three autopsy cases at a time, which includes an open mortuary facility for decomposed bodies. The cold chamber facilities are offered for public which can accommodate up to 15 bodies at a time. The autopsy room is gallery type with accommodation for more than 80 students at a time. The lecture hall associated with mortuary is with audio-visual aid with a seating capacity of 100.
The one of its kind Clinical forensic Medicine Unit functioning in the department offers the medicolegal services at the casualty, by addressing the medicolegal formalities associated with Emergency medicine.
The Department also trains 10 students per year in MSc Forensic Science degree, along with other PhD students.
The department is currently providing training in the subject specialty of Forensic Medicine for the undergraduate students of III, IV, V, VI and VII semesters of III MBBS degree classes, Postgraduate students aspiring for MD Forensic Medicine, MSc Forensic Science and PhD scholars in Forensic related subjects.
The department has modern amenities with well-planned and furnished faculty rooms and office. It is equipped with high speed internet facility in all the rooms with associated audio-visual aid. The departmental is equipped with a research lab, an outstandingly organized museum, with facilities to undertake round the clock medicolegal services. The department library is available and is provided with more than 150 reference books which can be utilized by the Post graduate students. The department laboratory is spread across an area of 275 sq mts. with seating capacity of 80 students at a time. The department also possess 4 spacious demonstration room with LCD projectors which can comfortably seat 70 students.    
The department does service to society by performing 24 x 7 medico-legal autopsies and embalming services in a well-equipped manner and has maintained a separate mortuary block with modern equipment's and instruments.
The mortuary is located 150 meters away from the department. The morgue is sufficiently measured and is provided with three dissection tables with a well-equipped viscera storage room, classroom with LED live TV demonstration and a cold chamber amenity for preserving 15 dead bodies at a time. The mortuary block has the capacity to undertake three cases at a time and can accommodate 60-70 students at a time. Autopsy workload undertaken by the faculty and technical staff members of the department is an average of 350 cases annually.
The other medicolegal services provided by the department are expert opinion (regarding skeletal remains, weapons and sexual offences) age certificate, wound certificates etc. The requests for the services are received are usually from the Karnataka State Police, commonly from the districts of Udupi, Dakshina Kannada, Davanagere, Shimoga, Coorg and Chikmagalur districts of Karnataka. 
The department is vibrant and undertakes CME's, workshops and conferences at national and international levels till date. The department hosts an All India Quiz Program, Justitia league programs for undergraduates annually. The department is unique in the sense that it has self-learning modules and one of the best forensic museums in the country.
Dr. Francis N.P. Monteiro:
Hailing from Mangalore, Dr Francis NP Monteiro, completed his MD in Forensic medicine from the batch of 2006, in KMC Manipal. Manipal Academy of Higher Education (MAHE) embodies a culture of nurturing young minds into talented, confident and humane professionals. He considers, being the alumnus of Kasturba Medical College, Manipal, is the foremost reason for any successes in his professional life can be attributed to the training, guidance and quality medical education he received from MAHE group of institutions. He currently works as director of research and Associate dean, A J Institute of Medical Sciences, Mangalore.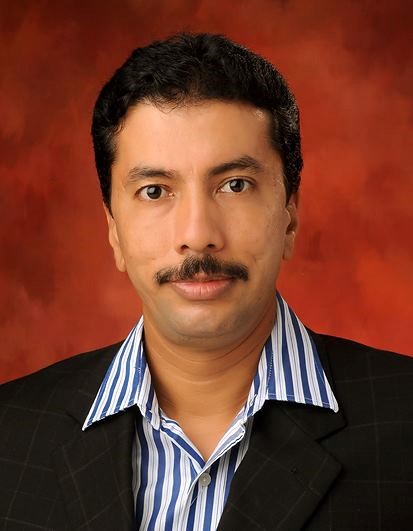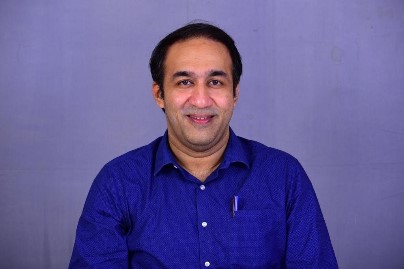 Dr B Suresh Kumar Shetty:
Hailing from Mangaluru, Dr. B Suresh Kumar Shetty obtained his Bachelor's degree at KMC, Mangalore - a proud 94 batch alumni, Master's degree at KMC, Manipal, and joined as faculty at KMC, Mangalore, where he has been teaching since 2005.
He is also appointed as the Honorary State Medico-Legal Consultant for three districts [Dakshina Kannada, Udupi and Coorg], Government of Karnataka. He is the Deputy Chief Superintendent, Examination and Cultural advisor to the students of KMC Mangalore. He is the advisor for the Centre of Forensic Odontology and also the Head of the Students wing of Bio-Ethics, KMC, Mangalore. He is also a PhD guide in MAHE.
He is the State medicolegal consultant and Associate Dean, Kasturba Medical College, Mangalore.
Ongoing PhD:
1.    Student: Ms. Silja P S  
Principal investigator - Dr Vinod. C. Nayak

2.    Student: Mr. Nagendra K
Principal investigator Dr. Shankar M Bakkannavar

3.    Student: Ms. Divya Ramesh
Principle investigator: Dr. Shankar M Bakkannavar

https://manipal.edu/mu/academics/phd.html
Autopsy: The department undertake approximately 350 post-mortem examinations every year. The request for post-mortem examination is obtained from Karnataka state police of different districts like Udupi, Shivamogga, Chickmagaluru, Davanagere, Chitradurga and Hosadurga districts.  We have cold storage facility for 15 dead bodies at a time in the Mortuary which has been a great help in handling the COVID dead bodies in Udupi district.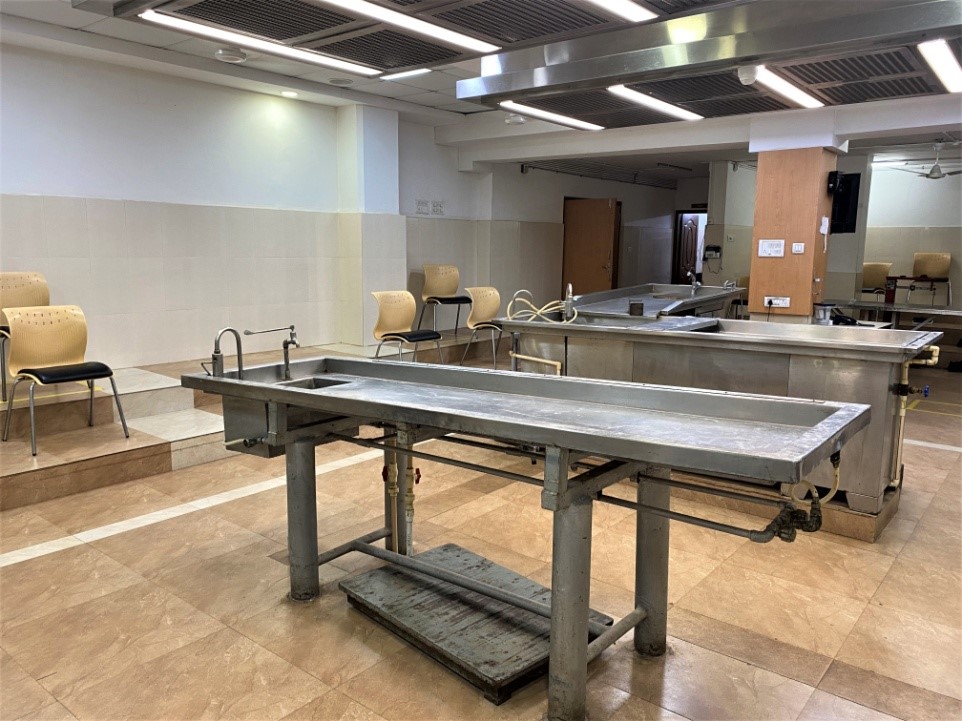 Expert opinions: The department provides approximately 150 expert opinions per year for the prosecution in sexual assault cases, weapon examination, skeletal remains examination and organ histopathology.
Clinical Forensic Medicine: The experts in the department extends its services to the casualty along with the emergency medicine department, and help in handling the medicolegal situations in the casualty. It includes documentation of injuries, sending the intimations to the state authorities, issuing wound certificates and also assists and guides in collection of samples from the victim's body.
Toxicology: Toxicology laboratory is present in the adjacent block and is undertaken as a joint venture between the department of Forensic Medicine and Toxicology and Biochemistry. Toxicology lab analyse samples from the hospital in case of poisoning along with the drug of abuse testing facility.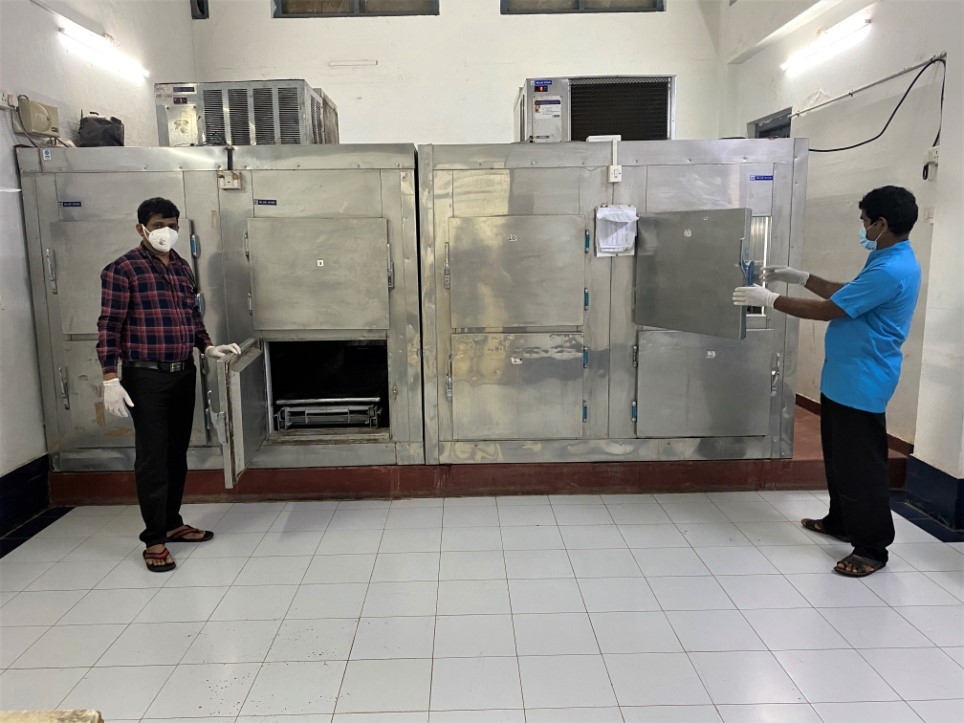 Grants: Agricultural pay commission, Govt of Karnataka has approved a grant of Rs. 15 Lakh for research on prevalence of Pesticide poisoning in Farmers in 2017.
Ongoing Projects:
·         Correlation of time since death and blood insulin and glucose level in post-mortem cases.
·         Correlation of type and extent of coronary atherosclerosis with myocardial infarction evidenced histopathological and triphenyl tetrazolium chloride test: An autopsy study.
·         Morphometric measurements of Mandible to determine stature and gender – A Postmortem study.
·         A Prospective Observational study of histopathological changes seen in paraquat and organophosphorus poisoning.
·         Analysis of sexual assault cases at southern township of India – A prospective study.
·         Morphometric measurements and age-related changes in histology of liver and gallbladder during post-mortem analysis.
·         Penmanship and the human mind- A correlational study between graphology and psychological traits as indicated by a standardised psychometric test.
·         Study of Fingerprints in association with blood groups and gender.
·         Qualitative and Quantitative analysis of commercially sold alcohol-based hand sanitizers.
·         Comparison of Genuine suicide note and Simulated suicide note written by men and women based of Forensic Linguistic Methods.
·         Analysis on development of latent fingerprints on different types of paper using powder technique in a given time interval.
·         Comparison of DSLR and smartphone photographs of crime scene evidences.
·         Speaker identification using vowel and nasals in Hindi and Marathi speaking individuals.
·         Handwriting analysis of left and right hand of an individual with training.
·         Blood pH as indicator of time since death-a post-mortem.
1). Shankar M Bakkannavar. Local Burden of Disease Vaccine Coverage Collaborators. Mapping routine measles vaccination in low- and middle-income countries. Nature. 2021 Jan;589(7842):415–9., Indexed; Scopus; International, Q1
2)   Rafael Lozano, Shankar M Bakkannavar, Vinod C Nayak, Sureshkumar Shetty, GBD 2019 Universal Health Coverage Collaborators. Measuring universal health coverage based on an index of effective coverage of health services in 204 countries and territories, 1990–2019: a systematic analysis for the Global Burden of Disease Study 2019. The Lancet. August 27, 2020. https://doi.org/10.1016/S0140-6736(20)30750-9 (ISSN 0140-6736, IF: 59.102), Indexed; Scopus; International, Q1
3)   Robert C Reiner Jr. Shankar M Bakkannavar, Local Burden of Disease WaSH Collaborators. Mapping geographical inequalities in access to drinking water and sanitation facilities in low-income and middle-income countries, 2000–17. The Lancet Glob Health 2020; 8: e1162–85. https://doi.org/10.1016/S2214-109X(20)30278-3 (ISSN ISSN 2214-109X, IF: 21.597), Indexed; Scopus; International, Q1
4)   Christopher J L Murray, Vinod C Nayak, Shankar Bakkannavar M, Unnikrishnan B, Ramesh Holla, Jagadish Rao PP, B Reshmi, Prasanna Mithra P, et al. Global burden of 87 risk factors in 204 countries and territories, 1990–2019: a systematic analysis for the Global Burden of Disease Study 2019. The Lancet 2020; 396: 1223–49. Indexed; Scopus; International, Q1
5)   Gregory A. Roth, Vinod C Nayak, Nirmal Krishnan M, George A. Mensah, Global Burden of Cardiovascular Diseases and Risk Factors, 1990–2019. Journal of the American College of Cardiology Vol. 76, No. 25, 2020 Indexed; Scopus; International, Q1
https://eprints.manipal.edu/view/subjects/FM.html
·         Department of Forensic Medicine and Toxicology started a round the clock functional toxicology lab in collaboration with biochemistry department in 2015.
·         Department of Forensic medicine and Toxicology started its round the clock medicolegal support for the casualty of the Kasturba Hospital through Clinical Forensic Medicine Unit in the year 2016
·         A full-time on campus, postgraduate course in MSc Forensic Science was started from 2018.