The Department of Microbiology at Kasturba Medical College, Manipal was founded in the year 1963. It is located in second floor of Centre for Basic Sciences Building. Over years the department has witnessed seminal progress in the field of medical Microbiology, leading to National and International Reputation. The department actively involves in imparting the science of Microbiology with innovative pedagogy practices in higher education. The department offers quality clinical Microbiology diagnostic services to the tertiary care hospitals and adjoining health care systems in the state through its accredited labs by ISO 15189:2012 and National Accreditation Board for Testing and Calibration Laboratories (NABL), a Constituent Board of Quality Council of India (QCI). 
To develop collaborations between the institutions and enhancing quality of education, skills and to impart training to the learners, the department of Microbiology is engaged with five eminent adjunct faculty.
·        Dr. Vittali Sintchenko
·Sydney Medical School, Australia
·        Dr. Trini Ann Mathew
·Conemaugh Memorial Medical Centre, Johnstown, USA
·        Dr. Ankur Mutreja
·University of Cambridge, UK
·        Dr. Kalisavar Marimuthu
·National Centre for infectious Diseases, Singapore
·        Dr. Bhabatosh Das
·NCR, Biotech Science Cluster, Faridabad
Dr. Trini Ann Mathew, MD, MPH, FACP, Medical Director of Hospital Epidemiology and Infection Control, Infectious Diseases & International Medicine, Beaumont Royal Oak, Michigan, USA, was resource person for post graduate training program  "Primer on Infectious Diseases Diagnosis and Management" on  27th June, 2019
Dr. Ankur Mutreja (EDD Adjunct Faculty, from Cambridge University) visited Manipal during 19th-21st Feb of 2019 to discuss collaborative research work.
Dr. Chaitanya Tellapragada MSc. PhD
Postdoctoral Fellow, Karolinska Institutet, Stockholm, Sweden
Dr. Vignesh Shetty MSc. PhD
Post-Doc in Department of Medicine, CITIID, University of Cambridge, Cambridge, UK
Dr. Sohan Bangera MSc. PhD
Assistant Professor of Microbiology,                                                                                                                      Technical Manager -Molecular Diagnostic Laboratory,
Srinivas Institute of Medical Sciences and Research Center, Srinivas
Dr. Tushar Shaw MSc. PhD
Assistant Professor, M S Ramaiah University of Applied Sciences, Bengaluru, India
Working as Doctoral fellow in
Laboratory of Cell Biology & Histology, University of Antwerp, Belgium
Working as Young professional-II,  ICAR- National Institute of veterinary Epidemiology & Disease informatics, Bangalore, India
| | | |
| --- | --- | --- |
| S. No. | Student Name | Year of graduation |
| 1 | Dr. Chaitanya Tellapragada | 2015 |
| 2 | Dr. Suganthi Martena | 2017 |
| 3 | Dr. Vignesh Shetty | 2018 |
| 4 | Dr. Rituparna | 2018 |
| 5 | Dr. Sohan Bangera | 2019 |
| 6 | Dr. Tushar Shaw | 2020 |
Ongoing PhD
| | | |
| --- | --- | --- |
| S. No. | Name | Year of registration |
| 1 | Mrs.Sudipta Patra | 2017 |
| 2 | Mr.Sujith Pavan | 2018 |
| 3 | Mr.Ravikumar TN | 2018 |
| 4 | Mrs.Manasa C Tantry | 2019 |
| 5 | Ms.Thripthi K Ananda | 2019 |
| 6 | Ms.Druti Hazra | 2019 |
| 7 | Ms.Soumi Choudhary | 2020 |
| 8 | Ms.Sahithya Mahesh | 2020 |
| 9 | Ms.Aparna Dravid | 2020 |
| 10 | Ms.Ninu P Mathew | 2020 |
| 11 | Ms.Aiwa Avarachan | 2021 |
| 12 | Ms.Gouri Kumar | 2021 |
https://manipal.edu/mu/academics/phd.html
Department of Microbiology is a multidisciplinary unit and has been able to provide standardized consultancy services in the field of bacteriology, mycobacteriology, parasitology, mycology, immuno-serology and molecular diagnosis.
The department of microbiology is NABL accredited since July 2016 as per ISO-15189.
The directory of services from microbiology offers 97 diagnostic tests.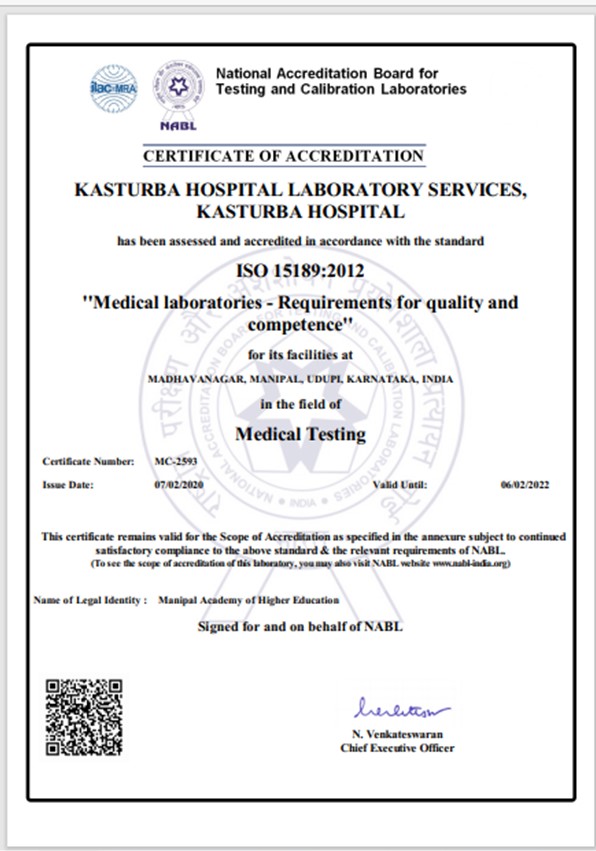 The laboratory processes around 25000 samples per month.   The critical care microbiology lab situated in hospital offers 24 x 7 service to critically ill patients.  Diagnostic laboratory for Covid-19 is equipped with automated extractor and RT-PCR instruments.
The lab has state of the art facilities like automated blood culture system, Matrix assisted laser desorption ionization – time of flight technology [MALDI-TOF], automated antimicrobial testing system [VITEK -2], anaerobic chamber, real time PCR and automated immunoassay platforms along with conventional microbiological tools for diagnostic services.  All the diagnostic tests are subjected to continuous quality assurance through external and internal quality assurance programs. 
Bacteriology
This division handles various samples like exudates, blood, urine, respiratory specimens and stool for culture and antimicrobial susceptibility.
The ultramodern facility like VITEK MS, VITEK -2 facilitate fast and accurate test result for the clinicians to adjust therapy, for overall patient care and outcomes.
The presence of BACT-ALERT VirtuO, provides a new dimension to the existing automated blood culture system.  Advanced reporting is available with MYLA middleware provides a comprehensive view of analytical cycle of Microbiology workflow.
Anaerobic Bacteriology:
This specialized division, provides accurate and quality identification of anaerobic pathogens from diverse clinical specimens.  The division is endowed with state-of the–art facility - anaerobic workstation 
Don-Whitley (A35, Whitley Yorkshire, UK) for maintaining complete anaerobic atmosphere. 
The division has facility for Clostridioides difficile stool culture and rapid testing of C. difficile toxin and Helicobacter pylori.
Mycobacteriology
The division handles diagnostic facility for Mycobacterium tuberculosis and Non-tuberculous Mycobacteria in pulmonary and extra-pulmonary samples.
This lab is engaged with RNTCP through public-private partnership.
The facilities owned by the division include, automated liquid culture system [MGIT], conventional culture, GeneXpert and line probe assay for drug susceptibility testing.
Immuno-serology
This division provides immunological diagnosis for infectious diseases and autoimmune diseases. The infectious disease diagnosis has test packages for viral hepatitis, acute febrile illness, sepsis markers, fungal serology and parasitic serology. The test to detect antibodies to SARS-CoV2 helps in surveillance and assessing vaccine response.  The section is equipped with automated immunoassay platforms like Cobas 6000, EVOLIS which facilitate faster, accurate and quality processing of samples.
The HIV diagnostic section is the recognized state reference laboratory by NACO. The section has an associated integrated counselling and testing Centre, which carries out surveillance testing also.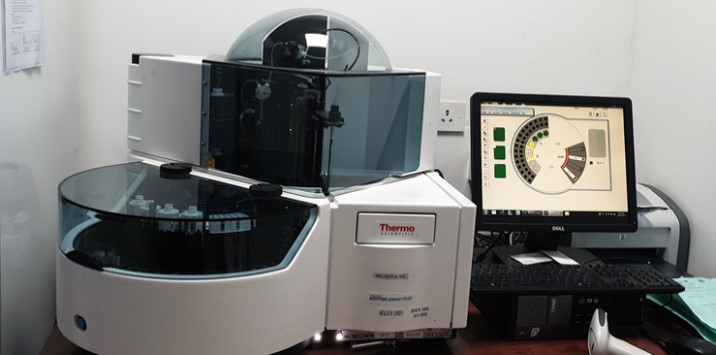 Immuno-serology:
Autoimmune panel provides a wide range of testing with expertise in techniques like fluorescent immunoassay.  The test panels provide a comprehensive marker for diagnosis of autoimmune diseases and rheumatoid arthritis Automated immunoblot instrument EUROBlot One helps in faster and easy processing of samples.
Molecular diagnosis
The department has a 24 x 7 RT-PCR facility for SARS-CoV-2 diagnosis. The molecular diagnostic facility has GeneXpert instrument for performing CBNAAT testing for SARS-CoV-2, viral load testing of HIV, HBV and HCV.  The division is proud to have DNA Microarray for HLA-B27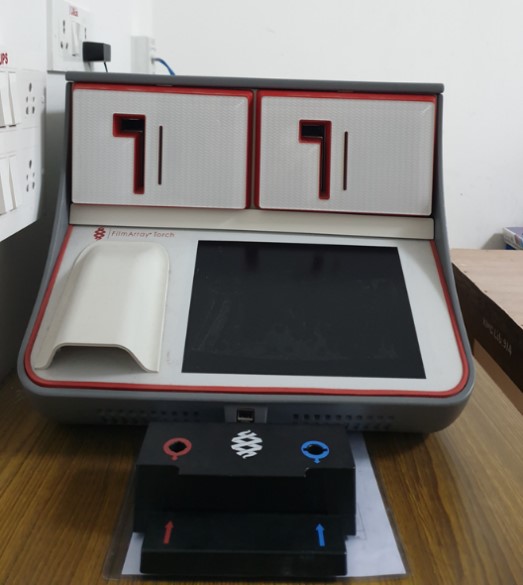 BioFire Filmarray syndromic test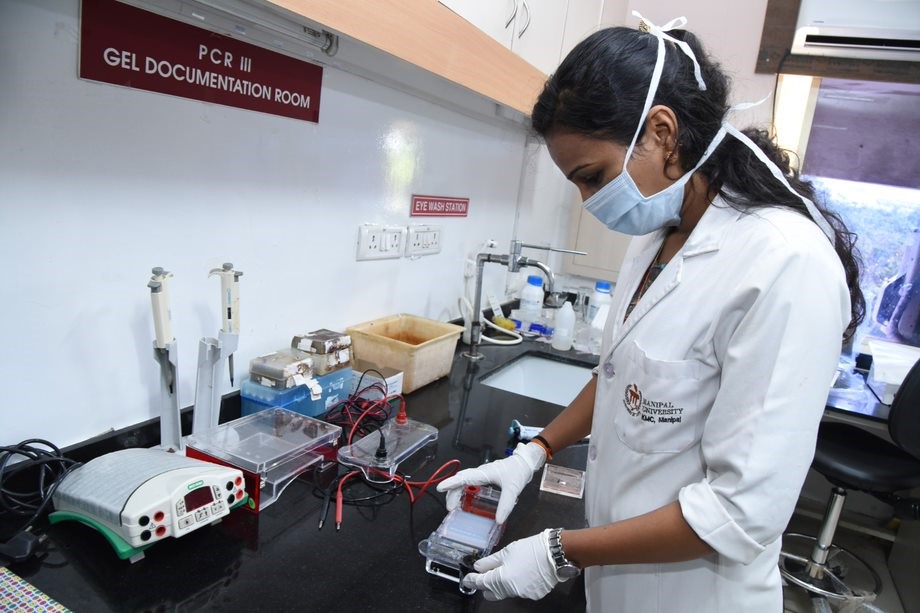 Parasitology division:
The Division of Parasitology at Department of Microbiology has designated facility and expertise in the field of parasitic diagnosis of infectious diseases. It conducts wide range tests to establish epidemiological, molecular diagnostic, and preventive measures against parasitic diseases, like Amoebiasis, Giardiasis, Cryptosporoidiasis, malaria and food-borne/zoonotic helminths including Dirofilariasis, Ancylostomiasis, Ascariasis, Strongyloidiasis, Taeniasis/cysticercosis, Echinococcosis. The division provides diagnostic services and consultations on diagnosis, prevention, and treatment on these parasites. 
Mycology Laboratory division:
The Mycology Laboratory division at Department of Microbiology, KMC, Manipal offers specialized diagnostic services for the identification of diverse fungal pathogens and cater to the needs of tertiary care facilities at Manipal and Udupi. It provides expert clinical and technical consultation in diagnosing varied mycotic infections ranging from superficial, subcutaneous, systemic and deep-seated mycoses including fungal sinusitis and oculomycoses. The lab has pivotal role in prompt diagnosis of neglected, rare and exotic mycoses among vulnerable population. In the recent times the laboratory remained steadfast in ascertaining the etiologic role of mucormycoses during the COVID pandemic. The laboratory carries out an assortment of direct microscopy methods like; fungal staining, fluorescence and phase contrast microscopy for demonstration of fungi in specimens and is operational with dedicated; class II type A2 Biosafety Cabinets, temperature regulated orbital and BOD incubators; for propagation of fungi, liquid nitrogen facilities for preservation, stereomicroscopy with image capture system, automated yeast identification system, thermal cycler, electrophoresis units and UV transilluminator. The lab facilitates in-vitro antifungal drug susceptibility testing and indoor mould evaluation for sick building syndrome upon request. For more than a decade the lab has been enrolled in the WHO-PGIMER Medical Mycology External Quality Assurance Program of the country to ensure hallmark of quality and remains an affiliate to rare fungal infections registry.
Hospital Infection control surveillance
The laboratory has dedicated facility for environmental sampling of air and water from hospital areas, hostels and operation theatres. Quality control of sterilization and disinfection facilities of hospital CSSD is also monitored by the section. The facility also provides consultation to external hospitals and general public for bacteriological surveillance.
Research
The department of Microbiology is endowed with state-of-the-art research capabilities. It is engaged in a wide variety of research endeavors centered on several thematic areas. With diverse areas of emphasis in infectious disease diagnostics, the department of Microbiology provides a wide range of laboratory experiences and a faculty dedicated to excellence in teaching and research. The innovative research ideas and research gaps identified by faculty in their respective thrust areas are often addressed by fetching the research funds supported by university or extra-mural finding agencies.
List of Extramural projects
Sl. No

Project Name

Principal Investigator

Funding Agencies

Duration of the projects

1.    

Capacity building and Strengthening of Hospital Infection Control to Detect and Prevent Antimicrobial Resistance in India

Dr. Chiranjay Mukhopadhyay

CDC-USA/  AIIMS

 

2016-2021

2.    

Comparative analysis of various diagnostic tools to resolve the diagnostic dilemma in Leptospirosis  

Dr. Shashidhar V 

ICMR, New Delhi 

 

2017-2020

3.    

Antimicrobial Resistance Surveillance and Research Network

Dr. Chiranjay Mukhopadhyay

ICMR, New Delhi

 

2018-2022

4.    

Enhancement of detection of paediatric TB cases with induced sputum production

Dr. Kiran Chawla

RNTCP, India

2021-2022

5.    

"Microbiological and Molecular Characterization of Clostridioides difficile isolates"

Dr. Padmaja A Shenoy

Central India Institute of Medical Sciences (CIIMS) Nagpur,

2019-2020

6.    

Characterising the cellular immunity and metabolic response to Mycobacterium tuberculosis and Burkholderia pseudomallei in Indian patients for vaccine design

Dr. Chiranjay Mukhopadhyay

VALIDATE Network, UK

2019-2020

7.    

Molecular diagnosis and risk stratification of sepsis in India (MARS-India)

Dr. Chiranjay Mukhopadhyay

Academic Medical Centre, Amsterdam, Netherlands

2018-2021

8.    

Development and Validation of an Electronic Surveillance System for Surgical Site Infections Developing During Hospital Stay and After Discharge: A Multi-Centric Study

Dr. Chiranjay Mukhopadhyay

ICMR

2018-2021

9.    

Paediatric house hold contact investigations for TB: Challenges and its burden, Karnataka

Dr. Kiran Chawla

CTD, India

2021-2022

10.                

Screening for Abacavir Hypersensitivity by DNA Microarray among HIV sero-positive adult patients in a tertiary care hospital

Dr. Shashidhar V

MACID Manipal

2019-2020

11.                

Molecular epidemiology of the methicillin resistant Staphylococcus aureus and their association with biofilm formation in patients with bone and joint infection 

Dr. Barnini Banerjee 

MACID 

2020-2021

12.                

Hospital based diarrhoeal disease and antimicrobial resistance Surveillance

Dr. Mamatha Ballal

NICED, Kolkata & Okayama University, Japan

2017 -2022

13.                

Process optimization of molecular Oligochromatography

Dr. Mamatha Ballal

University of Cambridge, UK

2019-2022

14.                

Optimization of Oligochromatographic Diagnostic Tool in Vibrio cholerae

Dr. Mamatha Ballal

University of Cambridge, UK

2019-2023

15.                

Metagenomics application to study the burden of antimicrobial resistant genes and detection of antibacterial agents in a non-clinical environment

Dr. Vandana K E

MAHE intramural fund

 

16.               20

International Network for Asia-Pacific Antimicrobial Stewardship

Dr. Vandana K E

Henry Ford Health System, USA

 

17.               21

Dr. TMA Pai Endowment chair on Antimicrobial Stewardship

Dr. Vandana K E

MAHE

 

18.               22

Surveillance for Enteric Fever in Asia Project (SEAP)

Dr. Vandana K E

THSTI, Faridabad, India

 
1.    Rello J, Campogiani L, KE Vandana. Understanding resistance in enterococcal infections. Intensive Care Med 2020;46(2):353–6
2.    Kapi Sadani, Lokesh Muthuraj,  Marisca Fernandes, Kiran Kondabagil, Chiranjay Mukhopadhyay, Soumyo Mukherji . A Point Of Use Sensor Assay For Detecting Purely Viral Versus Viral-Bacterial Samples. Sensors Actuators B Chem 2020;322:128562
3.    Nash M, Kadavigere R, Andrade J, Sukumar CA, Chawla K, Shenoy VP, Pande T, Huddart S, Pai M, Saravu K. Deep learning, computer-aided radiography reading for tuberculosis: a diagnostic accuracy study from a tertiary hospital in India. Sci Rep. 2020;10(1):1–10
4.    Prabhu A, Nandagopal MSG, Prakash PY, Singhal HR, Mani NK. Inkjet printing of paraffin on paper allows low-cost point-of-care diagnostics for pathogenic fungi. Cellulose 2020;27(13):7691–701
5.    Ravindra Attur Prabhu, Tushar Shaw, Indu Ramachandra Rao, Vandana Kalwaje Eshwara, Shankar Prasad Nagaraju, Srinivas Vinayak Shenoy, Chiranjay Mukhopadhyay. Acute kidney injury and its outcomes in melioidosis. J Nephrol 2021;1–8.
https://eprints.manipal.edu/view/subjects/MIC.html
To highlight the neglected or rare diseases and to create awareness among clinicians and Microbiologists, 1st South Asian Melioidosis congress was conducted by department of Microbiology, KMC, Manipal in the year 2015. 
Centre for Emerging and Tropical Diseases, MAHE (CETD)
Dr. Chiranjay Mukhopadhyay, Professor of Microbiology, Associate Dean of KMC Manipal  is the co-ordinator for CETD and this initiative was started on 1st September 2017.  CETD act as a center of reference in the country for selected emerging and tropical diseases. Improve surveillance and awareness among the population regarding selected emerging and tropical diseases. It has been selected as POC test evaluation and validation by Inbios International, Settle, USA.
Department of Microbiology along with Hospital Infection control committee, KMC, Manipal was involved in development of educational video for performing COVID antigen test for the benefit of healthcare workers in August 2020. The link for the same is https://youtu.be/XFLJHk_9-fo