The Department of Radiodiagnosis & Imaging in KMC was established in 1962.Radiology as a specialty is an integral part of Imaging, diagnosis, treatment & post treatment follow up of every patient. We thrive to reduce hospital stay & accelerate recovery process.
Our department is also involved in numerous Research activities, academic pursuits, Inter-departmental teachings & collaborations. On a daily basis, 180-200 Ultrasound scans, 600 Radiographs, 120 CT scans & 50 MRI scans are performed along with Mammograms, special Radiographic procedures, Angiograms & Image guided Interventions.
Over the time, we have nurtured Musculoskeletal Imaging as a subspecialty along with Image guided Biliary, Vascular Interventions. We aim to develop these subspecialties into fellowship courses in due time.
1. Dr. Chandrakant Manmath Shetty is a radiologist in Mumbai, Maharashtra, India. Dr. Chandrakant M Shetty is affiliated with KJ Somaiya Medical College & Research Centre, Mumbai. He also worked in KMC, Manipal.
2.      Dr Anagha Joshi, Professor and Head of the Department of Radiology in Lokmanya Tilak Municipal Medical College and General Hospital, Sion in Mumbai, India with MCI recognized Residency Programme. She is the faculty in same institute since 1993.
3.      Dr Chandan Kakkar, an alumnus of KMC, Manipal. Presently working in Ludhiana.        Specialist in Body Imaging and Non-vascular Imaging. Dr. Chandan Kakkar is a radiologist in Ludhiana, Punjab, India. Dr. Chandan Kakkar is affiliated with Dayanand Medical College & Hospital
Name

Year of passing

Current position

 

Dr Naveen M Mulimani

2009

Associate Professor, Jawaharlal Nehru, Belgaum.

 

Dr Ullas V A

 

Consultant – Neuroradiology, Manipal Hospitals, Bangalore

 

Dr. Lakshmikanth H K

2013

Associate Professor, Kanachur Institute of Medical Sciences, Mangalore

Dr Samir P M

2014

Consultant Musculoskeletal Radiologist, York and Scarborough Teaching Hospitals, UK
The department is well-equipped with state-of-the-art machines, manned by competent radiologists and well-trained technologists. It has been a pioneer in diagnostic and interventional radiology and has several laurels to its credit. It was the first to get a CT scan machine in Karnataka and second institute in South India to have a PACS (Picture archiving and communication system). The department is suitably equipped to provide almost all possible diagnostic and therapeutic radiology services for both inpatients and outpatients.
RADIOGRAPHY
For routine radiography of the chest, abdomen and skeletal system, both Computed Radiography (CR) and Digital Radiography (DR) are utilized. 
Ten portable units are available 24 x 7 for emergency scanning in the ICU and for trauma cases.
Several fluoroscopy-guided diagnostic and interventional procedures using contrast media are performed on the Siemens Iconos R200 machine, including Barium studies, hysterosalpingograms, IVU and MCU, sialograms, T-tube cholangiograms, percutaneous transhepatic biliary drainage (PTBD) and percutaneous nephrostomy (PCN). 
All routine radiographs and contrast procedures are acquired in digital format, uploaded to PACS (Picture Archival and Communication System) and reported with the help of sophisticated Barcos.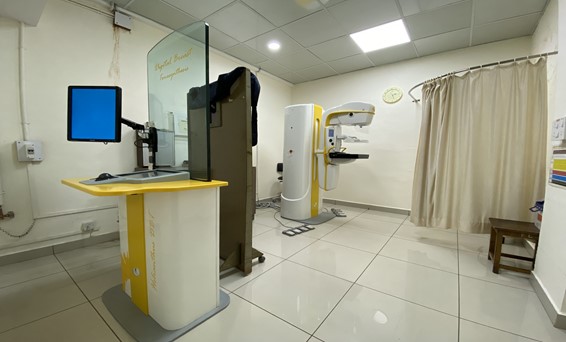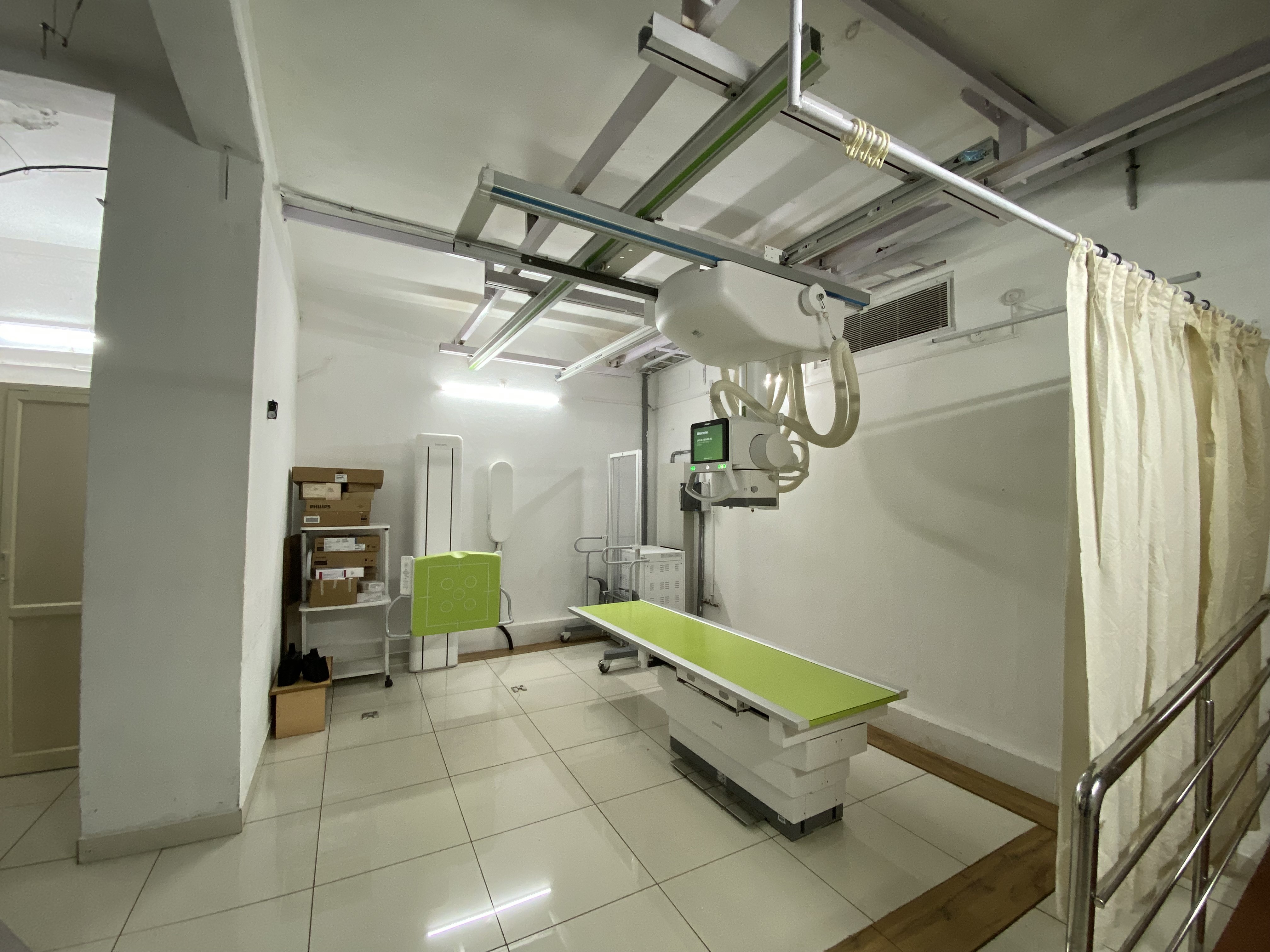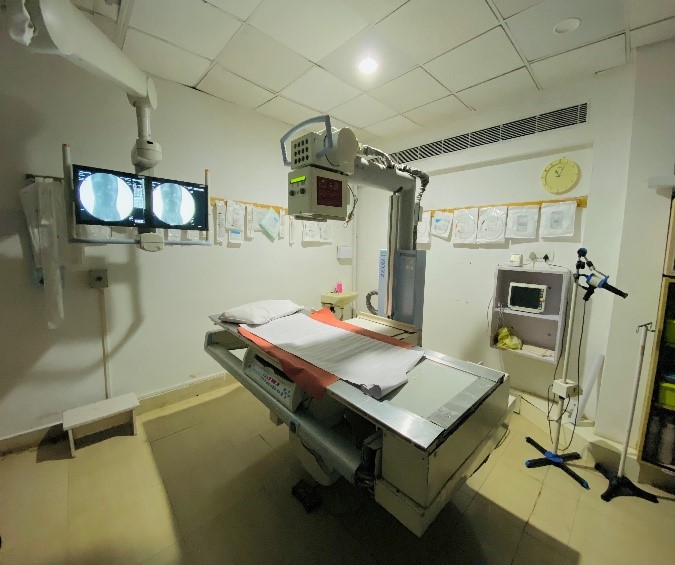 DIGITAL MAMMOGRAPHY
Mammography screening entails examining thousands of healthy women. Therefore, it is of utmost importance to keep the radiation dose as low as possible. However, high image quality is indispensable to be able to detect small lesions. The modern Metaltronica Helianthus DBT machine enables the radiologist to take images of superior quality without compromising on radiation safety. The detection and characterization of smaller lesions is further augmented by utilizing sonography and giving a combined sono-mammography report.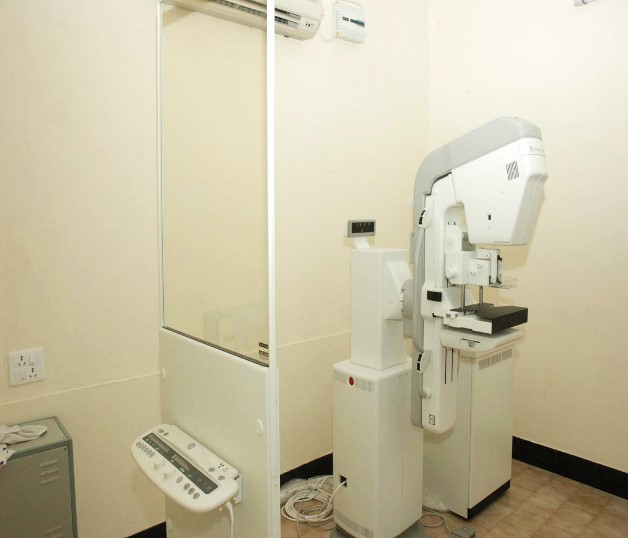 ULTRASONOGRAPHY AND COLOUR DOPPLER
Eleven sophisticated ultrasound machines are used for both diagnostic and therapeutic procedures.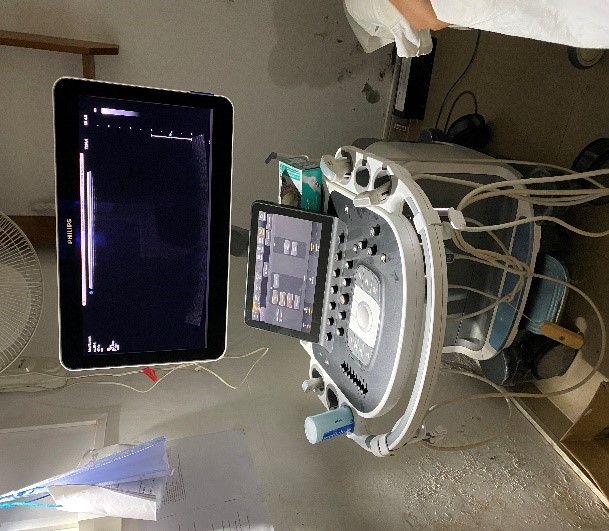 Seven machines are used for examination of the abdomen, pelvis and small parts, and for Colour Doppler to evaluate patients for deep venous thrombosis, varicose veins and peripheral vascular disease.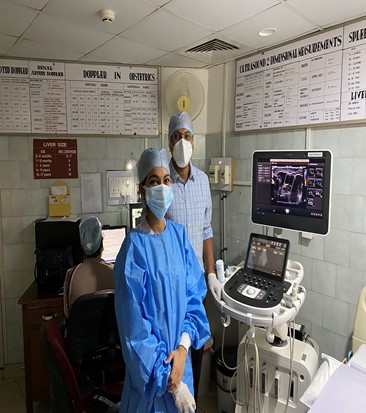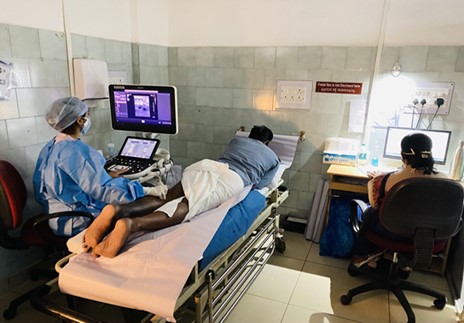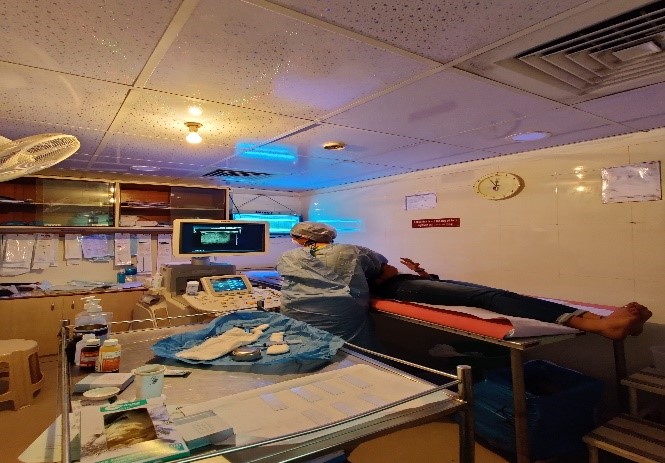 One state-of-the-art system is utilized for performing ultrasound-guided procedures, such as FNAC, biopsy and fluid aspiration. 
The three portable units are used primarily for emergency scanning of ICU patients and bedside image-guided procedures, like pigtail catheter insertion and fluid / abscess aspiration. They are also utilized for intra-operative assistance to colleagues in other departments, such as for insertion of peripheral lines and reduction of zygomatic fractures.
COMPUTED TOMOGRAPHY
State-of-the-art 128-slice Philips Incisive CT scanner and 16-slice Philips Brilliance Big-Bore scanner with 3D rendering capabilities are utilized for both routine and emergency scans, done 24 x 7.
Angiography scans with 3D reconstruction performed, including cerebral, peripheral limb, abdominal, aortogram and pulmonary. Special features include coronary angiography and CT guided procedures, including biopsies, radiofrequency tumour ablation, nerve blocks and sclerotherapies.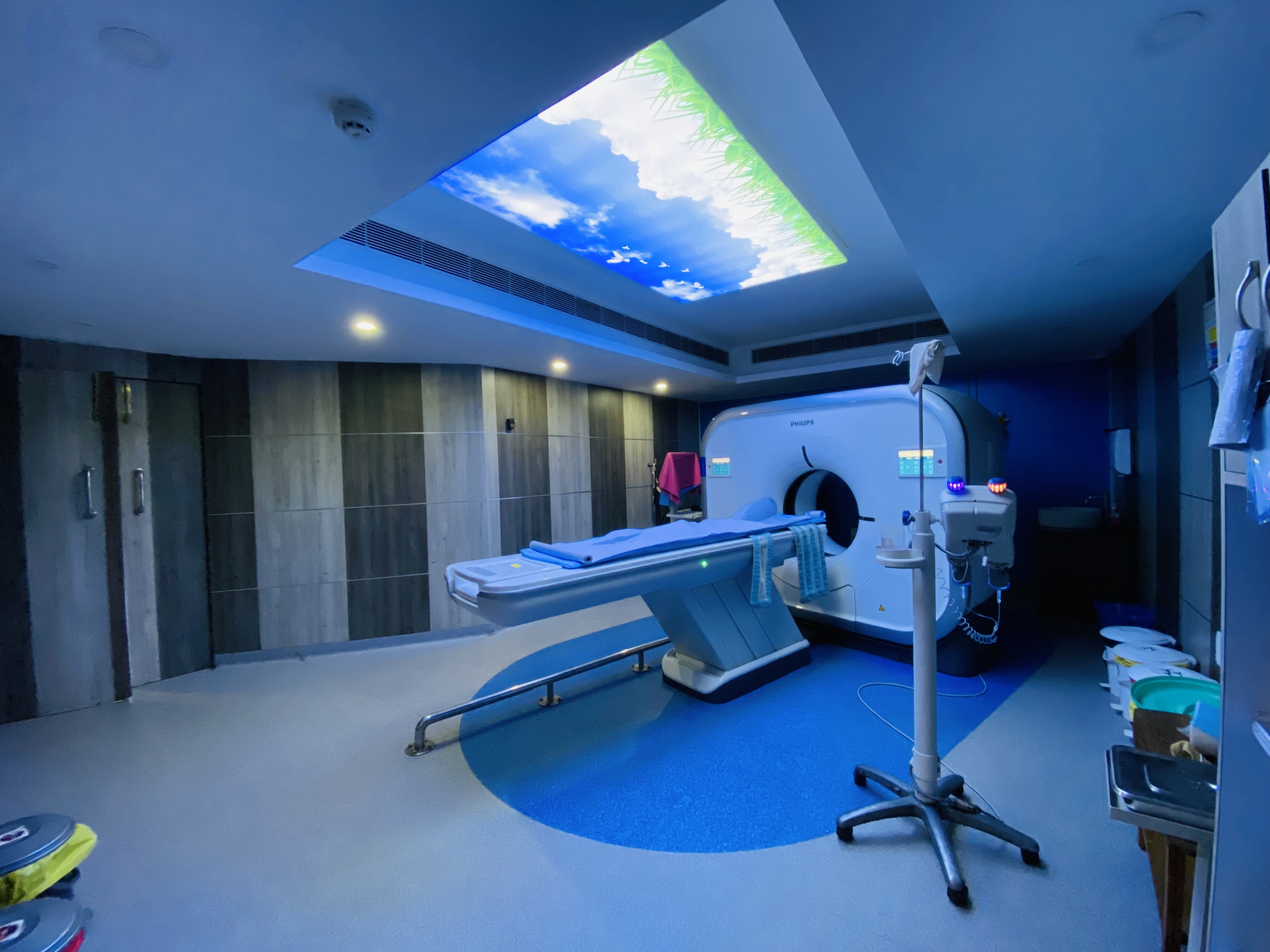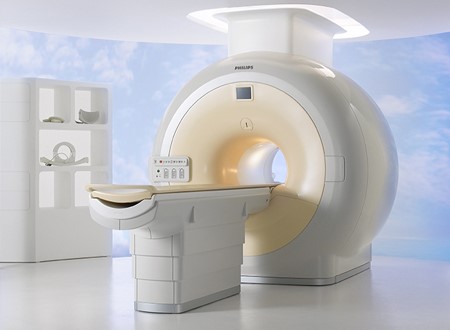 MAGNETIC RESONANCE IMAGING
GE HDxt Signa 1.5T and Philips ACHIEVA 1.5T machines are utilized for routine imaging of the brain, spine, abdomen and pelvis, and musculoskeletal system, including lumbar and brachial plexus studies. 
Advanced techniques include proton spectroscopy for evaluation of brain tumours, cardiac MRI, breast MRI and fetal MRI.
INTERVENTIONAL RADIOLOGY
Minimally invasive and targeted therapies are used to treat patients and help their early recovery. The instruments for the procedures are utilized under imaging guidance:
Fluoroscopy guided diagnostic procedures:
Barium studies
Hysterosalpingography
IVU, MCU
Fistulogram
T-Tube cholangiogram
Digital Subtraction Angiography (DSA)
Fluoroscopy guided therapeutic procedures:
Percutaneous transhepatic biliary drainage (PTBD)
Percutaneous nephrostomy (PCN)
Sclerotherapy
Trans arterial chemoembolization (TACE)
Uterine artery embolization
Ultrasound guided procedures:
FNAC
Biopsy
Pleural tap
Ascitic tap
Aspiration of abscess
Pigtail catheter insertion
CT guided procedures:
FNAC / Biopsy
Pigtail catheter insertion
Radiofrequency ablation
Nerve blocks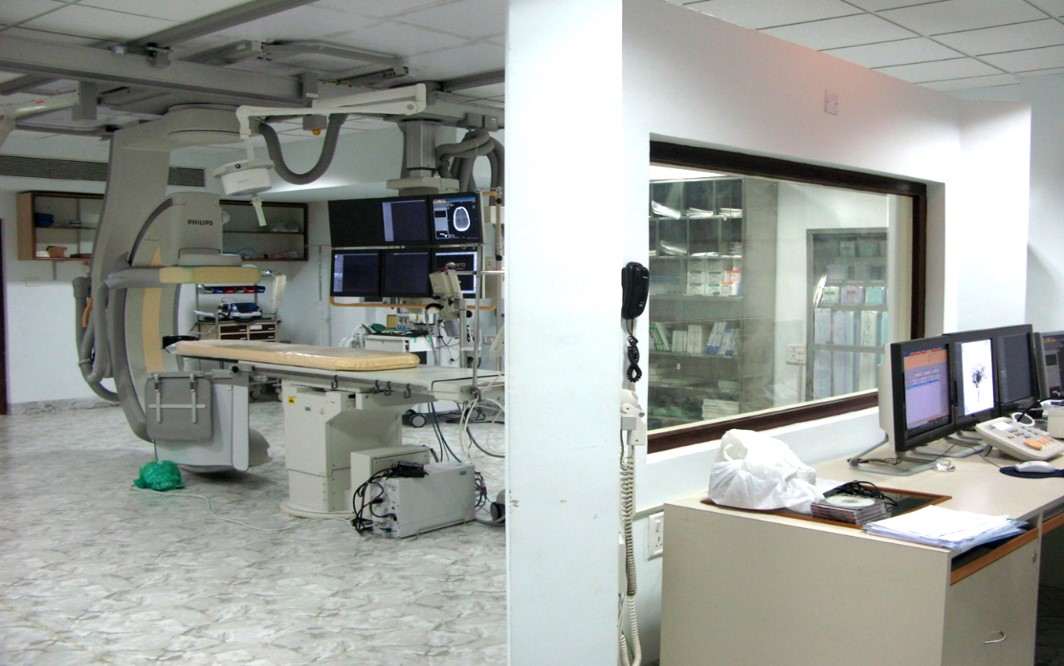 EMERGENCY SERVICES
Round-the-clock services are provided on emergency basis. Angiography and embolization for bleeding Catheter drainage for abscesses and obstructive uropathy 
Research is one of the main aspects of routine department work in addition to the clinical activities. Post graduates carry out thesis research work under the guidance of professors. For this, state-of-the-art imaging equipments are available, like MRI, MDCT, digital mammography and hi-end ultrasound equipment. 
Several PhD scholars (10 students) are also enrolled with various research projects in the department. One of them is a full-time PhD student and the others are part-time. 
Department also possess Medical Imaging Research suite (MIRS) where the students with a technical background from MIT carry out the research work. Few PhD students are also stationed here. Some of the objectives of the MIRS include:
1. Ffacilitate students & faculty to carry research in the area of medical imaging & bring out publications, patents & products.
 2. To train professionals, faculty in the area of clinical domain with industry support.
3. To collaborate with academic sites working in similar area.
4. To offer full-time student internships/projects, thereby providing an opportunity to work on Health Care projects under the guidance of Radiologists & engineers. This prepares them better for jobs in the healthcare market.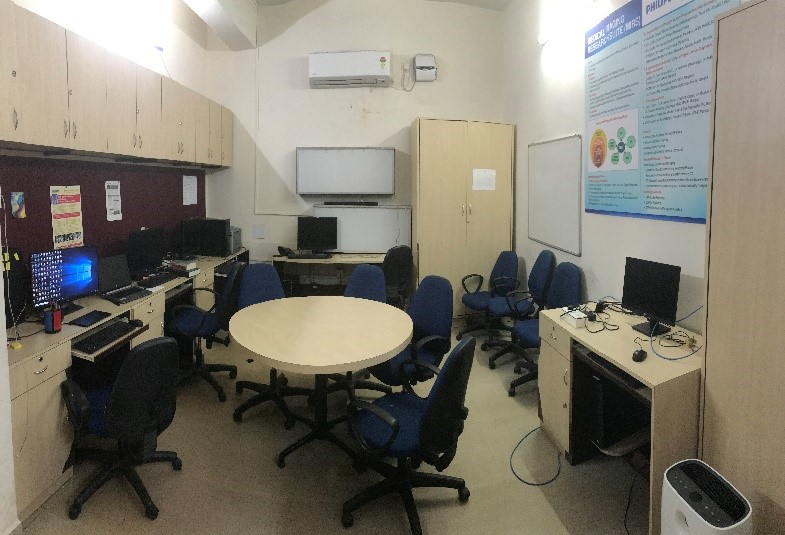 Ongoing research:
 
 
 
 
 
 

Sl No

Title of the grant

Granting agency

Principal Investigator

Duration of the project

 
 

1

Modelling an Accurate for Detection and Quantitative Assessment of Malignant Tumors in pre and post therapy Spinal Metastases using PETCT

DST –SYST scheme

Dr Prakashini K – co -PI

 

 

2

•       Mid-cycle MRI to predict Complete Pathologic Response to Neoadjuvant Chemotherapy in Breast Cancer patients

Dr Smiti Sripathi Endowment fund

Dr Aanthriksha K

2020-2023

 
·        Role of DTI in Parkinsonism disorders
·        Predicting Histopathological and Molecular Subtype of Non- Small Cell Lung Carcinoma based on CT features
·        Diffusion Tensor Imaging - MR Tractography in Stroke Patients to Predict Motor Outcome
·        Subtraction imaging in nonvascular MRI.
·        Role of MRI in the assessment of patients with anterior Knee pain with emphasis on Patellar instability and impingement syndromes
·        Association between muscle strength and ultrasound measured muscle thickness and echo intensity in South Indian Individuals with and without hypothyroidism
·        Spectrum of CT findings in patients of COVID-19 and it's complications 
·        Multiparametric MRI for Bladder Cancer Using VI-RADS for the Detection of Detrusor Muscle Invasion: An Observational Study to check the Reliability of VI-RADS scoring in Indian Population
·        Utility of multiphase CT cerebral angiography in acute ischemic stroke
·        Mid-cycle MRI to predict Complete Pathologic Response to Neoadjuvant Chemotherapy in Breast Cancer patients
·        Role of Shear wave elastography in assessing tendinopathy of supraspinatus tendon and muscle tendoachiliies and common extensor tendon of elbow in an Indian population.
·        Evaluating the accuracy of ABC/2 volume formula compared to computer assisted volumetric analysis of intracranial haemorrhages on computed tomography.
·        MRI based measurements of tibial and femoral parameters on an Indian population with insufficient knees.
·        Role of MRI in staging of rectal cancer and value of gadolinium enhanced MRI in predicting the extent of rectal cancer.
·        Detection and Staging of Laryngeal cancer Using Machine Learning and Radiomics.
·        Optimisation of b-value in diffusion weighted MRI for benign and malignant breast lesions
·        Development of an analytics algorithm to predict clinical outcomes of Head and Neck Cancer using features and randomics.
·        Development and testing of dose reduction strategies on radiation dose and image quality in CT angiography
·        Establishing diagnostic reference levels and optimisation of radiation dose for computed tomography of head in paediatric population
·        Variations in Default Mode Network of Brain Among Raja Yoga Meditators, Non-Meditators and Patients with Migraine Disorder – An in Depth Vexel Based Morphometric Analytical Study of sMRI and fMRI
·        Establishing diagnostic reference levels and optimization of radiation dose for head and neck and pelvic computed tomography protocols in radiation therapy planning
·        Influence of low kilo voltage protocol on image quality, iodine and radiation dose for abdominopelvic computed tomography.
·        Computer aided Diagnosis system for detection and classification of liver tumor using Computed Tomography Images
·        Prognostication of Acute Ischemic Stroke (AIS) in anterior cerebral circulation, based on the distribution of cerebral collaterals and clot burden on CT Angiography studies.
·        Prognostication of Acute ischemic stroke by developing a prognostic index based on a clinical characteristics and stroke volume
·        Artificial intelligence enabled acute ischemic stroke infarct volume estimation and intracranial emergent large vessel occlusion quantification
·        Development and testing of optimal cardiac CT protocol using fixed time delay for congenital heart disease in children.
·        Modelling of textures-based assessment system to accurately determine response to therapy of vertebral metastasis on DWI IN COMPETENCE WITH PET CT
·        Impact of yoga on central and Peripheral vascular function and cognitive functions among the desk-based workers.
·        Exploring application of radiomics in brain tumour assessment and treatment.
1.   Parneet Kaur, Rajagopal Kadavigere, Katta Mohan Girisha and Anju Shukla: Brain 2020: Recurrent bi-allelic splicing variant c.454+3A4G in TRAPPC4 is associated with progressive encephalopathy and muscle involvement; https://dx.doi:10.1093/brain/awaa046 
2.   Girisha K M, Anju Shukla*, Rajagopal K V, Parneet Kaur; Novel Variant p.(Ala102Thr) in SDHB Causes Mitochondrial Complex II Deficiency: Case Report and Review of the Literature; https://doi.org/10.1111/ahg.12377
3.   Julnar Karappara , Prakashini K , Nitika C Panakkal , Suresh S: Publication Repository: Optimization of Pediatric CT Brain Protocol to Achieve Reduced Patient Dose; Biomedical and Pharmacology Journal; https://dx.doi.org/10.13005/bpj/1899
4.   Vijayasekharan, Kalasekhar ; Bhat, Vasudeva K. Godkhindi, Vishwapriya M.  Venkatagiri, Archana M. ,Koteshwara, Prakashini.  Journal of Pediatric Hematology/Oncology: Bilateral Mirror Image Thoracic Neuroblastoma: Unusual Presentation in an infant: doi: 10.1097/MPH.0000000000001813
5.   Nitesh Kumar, S. M. Abdul Khader *, Raghuvir B. Pai, Panicos Kyriacou, Sanowar Khan, K. Prakashini, D. Srikanth Rao; Journal of Engineering Science and Technology; Vol. 15, No. 4 (2020) 2746 – 2763; Effect of Newtonian And Non-Newtonian Flow in Subject Specific Carotid Artery 
https://eprints.manipal.edu/view/subjects/RAD.html