The Department of Dermatology, Venereology and Leprosy was established in 1970 and permission to start postgraduate courses were obtained from the regulatory body in 1979-80. Since its inception, the department has been contributing significantly in the training of undergraduate and postgraduate students of KMC Manipal in the diagnosis and management of skin disorders. The postgraduate course attracts trainees from all over the country owing to the advanced diagnostic and therapeutic facilities available, guideline-based approach in the management of dermatological disorders coupled with robust teaching and research activities. In addition, the department is known for its excellent patient care and research activities. The department is well-equipped with state-of-the-art facilities such as immunofluorescence (IMF) laboratory, phototherapy unit and laser clinic.

The department is well known for its phototherapy facilities; the department is equipped with whole range of UVA, UVB (both whole body and hand & feet unit) as well as targeted phototherapy. Besides this, our institution is the only centre providing the facility of "Bath-PUVA" therapy which is highly effective treatment modality for psoriasis. Another feather in the cap is the state of art immunofluorescence (IMF) laboratory in the department; ours is the only department in the entire country where IMF microscopy is being performed in the dermatology department. It has been established as the referral laboratory for the entire country as we receive specimens for testing from dermatologists practicing across India. Both these unique facilities provide ample opportunities for resident students to gain sufficient knowledge and competency in these two areas from our experienced faculty as these facilities are not available at all centres.
Aesthetic dermatology is ever growing subspecialty of dermatology. A range of advanced cosmetic and laser procedures are being performed on a daily basis. These include chemical peels, platelet rich plasma therapy and a range of LASER procedures to treat acne scars, hair reduction, and tattoo/ mole removal to name a few. 
Psychodermatology is another subspecialty of dermatology; patients with chronic skin disease are often at tremendous stress induced by their skin disease. To cater to this subgroup of patients, the department is successfully running a unique liaison clinic every week with colleagues from psychiatry and clinical psychology.
The faculties in the department are experienced with vast knowledge in their specialty; besides they have keen interest and required expertise in various subspecialty. This has been   recognized by Indian association of dermatologist, venereologist and leprologist (IADVL) which has chosen KMC Manipal as the centre to offer fellowship to its members in the field of phototherapy and IMF.
Thus the residency program at KMC, Manipal is structured in such a way so that it offers the best facilities to the trainees in a range of diagnostic, therapeutic and research fields which will benefit in their future endeavors.
Dr. Detlef Zellikens, MD, Head of Department of Dermatology and VP research Affairs University of Lubeck, Germany visited our department in January, 2019. He delivered a guest lecture titled "An update on Autoimmune Blistering skin diseases and case discussion on immunobullous disorders".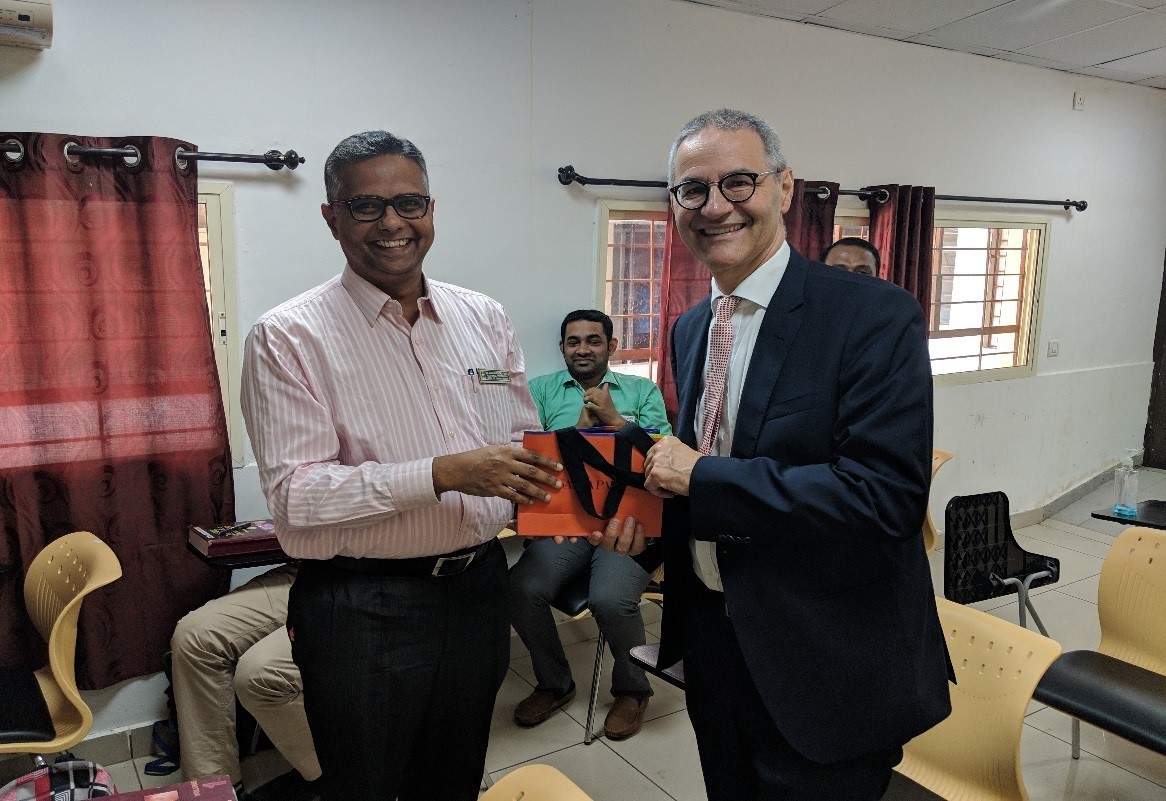 Dr Detlef Zellikens being presented with a token of appreciation by Dr Raghavendra Rao during his visit to the department.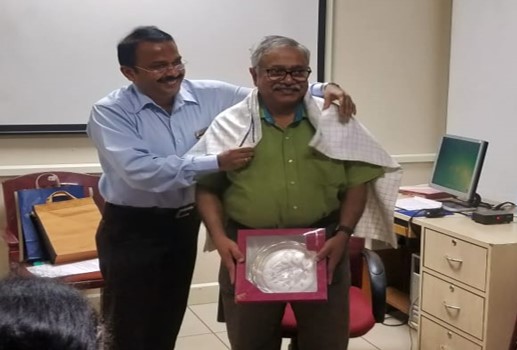 Dr C R Srinivas felicitated by Dr Sathish Pai
Dr. C. R. Srinivas, Professor and Head, Department of Dermatology at Kalinga Institute of Medical sciences, Bhubaneshwar visited our department on 30th March 2019. He delivered guest lecture on Photodermatitis. He also visited the department in September 2019 and gave us his expert views on the topic "Approach to dermatological disorders".
Dr Archana Singhal, Director Professor, Department of Dermatology at University College of Medical Sciences, Delhi visited the department in August 2019. She delivered a guest lecture on "Nail surgeries & Basic dermatology".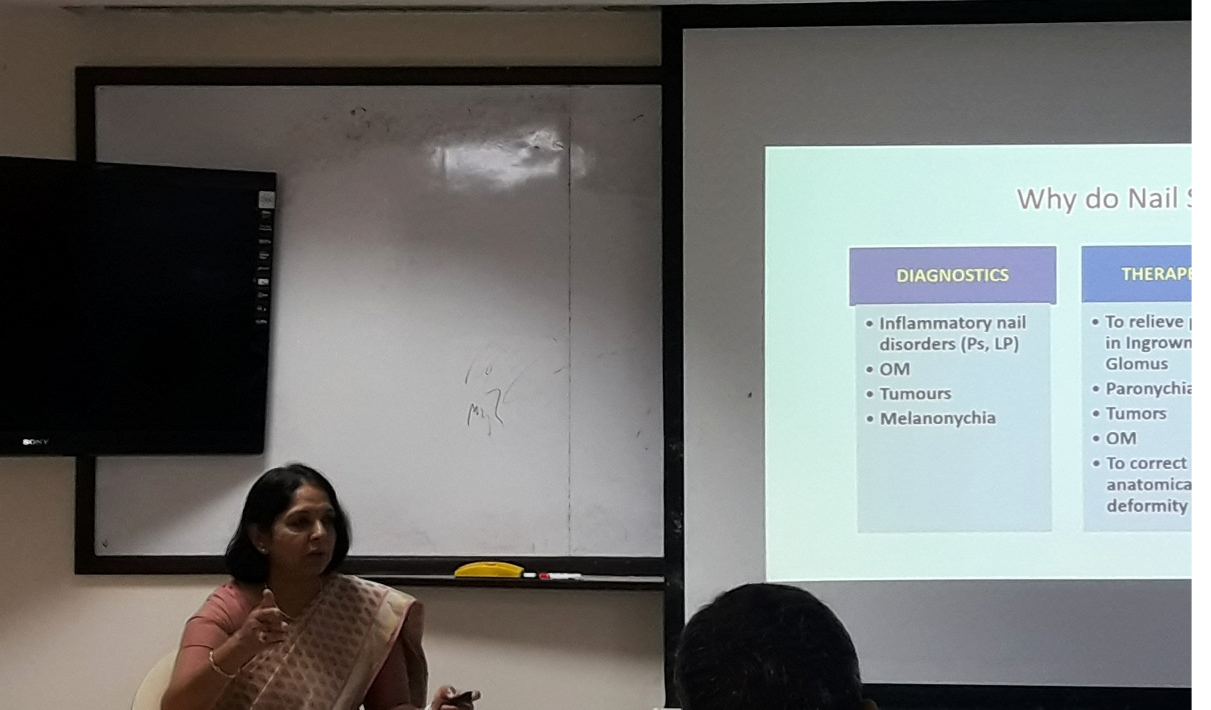 Dr Archana Singhal delivering a guest lecture during her visit to the department.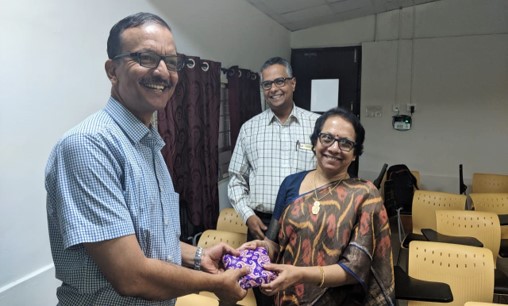 Dr Paschal D'Souza receiving token of appreciation from Dr Shruthakirthi D Shenoi.
Dr Paschal D'Souza, Director Professor and Head of Department of Dermatology at ESI PGIMSR & Model Hospital, New Delhi, visited our department as an Adjunct faculty on 16th & 17th May, 2019. He gave a talk on "Cutaneous Tuberculosis" and clinical case discussion with post graduates were conducted during his visit. He also visited the department in August 2019 and delivered a guest lecture on "Irritant Contact Dermatitis & Deep fungal infections".
S.No.

Name of the student

Co-Guide:

Title of PhD Research study

Collaborating Institute

Year

1

Swapna S

Dr. Sathish Pai B

Cost Effectiveness Analysis of various treatment regimens among Psoriasis Patients using Markov Model

KMC, Manipal

2013

2

K Ganesh Shenoy

Dr. Sathish Pai

Exploring scientific evidence for Siddha interventions used in the management of Psoriasis: pre-clinical (safety and efficacy profiles) evaluation of two popular Siddha formulations   

Melaka Manipal Medical College, MAHE

2017

3

Sathvik Upadhya

Dr. Raghavendra Rao

Interrogation of Vitiligo Genesis - Cellular and Molecular Analysis through iPSC

SOLS, MAHE, Manipal

 

2018

4

Nayak Deeksha Dayanand

Dr. Sathish Pai B

 Clinical and patient-reported outcomes in patients receiving Siddha standard of care and allopathic standard of care for psoriasis: A prospective cohort study

Melaka Manipal Medical College (Manipal campus)

2019

5

Sudhakara Upadya P

Dr. Sathish Pai B

Skin disease classification based on rash images using machine learning and deep learning techniques

School of Information Sciences, Manipal.

 

2020

6

Manjula

Dr. Smitha Prabhu S

Cosmeceuticals: A study on Impact of Advertisements, Adverse reactions and proposed concepts of cosmetovigilance system in Indian context

MCOPS, MAHE, Manipal

2020
Diagnostic facilities
·        Routine microscopy- Gram staining, ZN staining, Giemsa stain
·        Potassium hydroxide mount
·        Dark ground microscopy
·        Trichogram
·        Skin/ nail biopsy (punch/incisional)
·        Immunofluorescence microscopy
Therapeutic facilities

·        Ellman's Radiofrequency
·        Conmed Surgitron
·        Cryotherapy
·        Chemical peels
·        Intralesional and intramatricial injections
·        Iontophoresis
·        Phototherapy (Waldman/ Daavlin) – UVA, UVB, (both whole body as well as hand and feet unit)  & Targeted UVB therapy
·        PRP and PRF therapy
·        Micro needling
·        Skinnovation's MNRF
·        Lumenis diode laser for hair reduction
·        Fractional CO2 laser
·        Vitiligo and nail surgeries
No

 Title of the Research study

Investigators

Funding Agency

Duration of the project 

1

Comparison of conventional indirect immunofluorescence with bio chip mosaic slide in the diagnosis of autoimmune bullous disorder – A cross sectional study

Dr. Raghavendra Rao,

Dr Punya Suvarna,

IADVL

Ongoing

2

Human Papilloma Virus (HPV) genotyping in women with Condyloma acuminata. A cross-sectional, hospital based study

Dr Smitha Prabhu

IADVL

Ongoing

4

ALK20-SPI2 Phase III Clinical  Trial on Acne Vulgaris

Dr. Sathish Pai B,

Dr Sudhir Nayak

Alkem Lab

Ongoing

5

Diagnostic utility of Lupus Band Test (Non lesional, sun protected skin) in Systemic lupus erythematosus

Dr. Raghavendra Rao

Dr Sujitha Reddy

IADVL

Ongoing

7

Clinical study protocol of Methotrexate Tablet USP 2.5mg under fasting conditions.

Dr. Sathish Pai B

Dr. Smitha Prabhu

Ricon Pharma

Completed

8

Safety and efficacy of bioactive formulation for reducing  under eye dark circles and eye puffiness

Dr. Sathish Pai B

Dr. Shricharith Shetty

 

Completed

9

A Prospective Clinico-Mycological Study Of Recurrent /Resistant Cutaneous Dermatophytosis In Adults In A Tertiary Care Hospital

Dr Shrutakirthi D Shenoi,

Dr. Smitha Prabhu,

Dr. Malcom Puthu Noronha

Glenmark Pharmaceuticals Limited

Completed

10

A Prospective Clinical Study Of Nail Disorders In A Tertiary Care Hospital

Dr Shrutakirthi D Shenoi,

Dr Sudhir Nayak UK,

Dr. Sandhiya Ramesh

IADVL

Completed

11

A Prospective Study Of Serrated  Pattern Analysis  By Direct Immunofluorescence Microscopy In Subepidermal Autoimmune Blistering Diseases

Dr. Raghavendra Rao,

Dr. Sukriti Arora

IADVL

Completed
1.   Ghosh AP, Nag F, Biswas S, Rao R, De A. Clinicopathological and immunological profile of patients with cutaneous manifestations and their relationship with organ involvement in systemic lupus erythematosus attending a tertiary care center of Eastern India. Indian J Dermatol 2020; 65:22-8.
2.      Ramesh S, Shenoi SD, Nayak SUK. Comparative efficacy of 10% sodium hydroxide, 88% phenol, and 90% trichloroacetic acid as chemical cauterants for partial matricectomy in the management of great toe nail onychocryptosis. J Cutan Aesthet Surg 2020;13:314-8.
3.      Shenoi SD, Soman S, Munoli R, Prabhu S. Update on pharmacotherapy in psychodermatological disorders. Indian Dermatol Online J 2020;11:307-18.
4.      Kumudhini S, Pai S, Rao C, Rao R. A comparative study of Michel's medium versus honey as a transport medium for skin specimens prior to direct immunofluorescence microscopy and antigen mapping. J Cutan Pathol. 2019;46:729–735.
5.      Abbagani Surabhi, Kamath YS, Nayak SUK. A Study on Ocular Morbidity among Patients with Psoriasis Visiting a Tertiary Care Hospital in Karnataka, Southern India. Ocular Immunology & Inflammation, 2019; 27: 531–534.       
https://eprints.manipal.edu/view/subjects/DER.html
The department bagged the prestigious "Best Department award" conferred by the state branch of IADVL at CUTICON-KN, 2016.