MAHE celebrates 69th Republic Day by hoisting new Tricolour on high flagpole
Becomes the first private university in the country to have the national flag fluttering 24x7 on a 125 feet flagpole.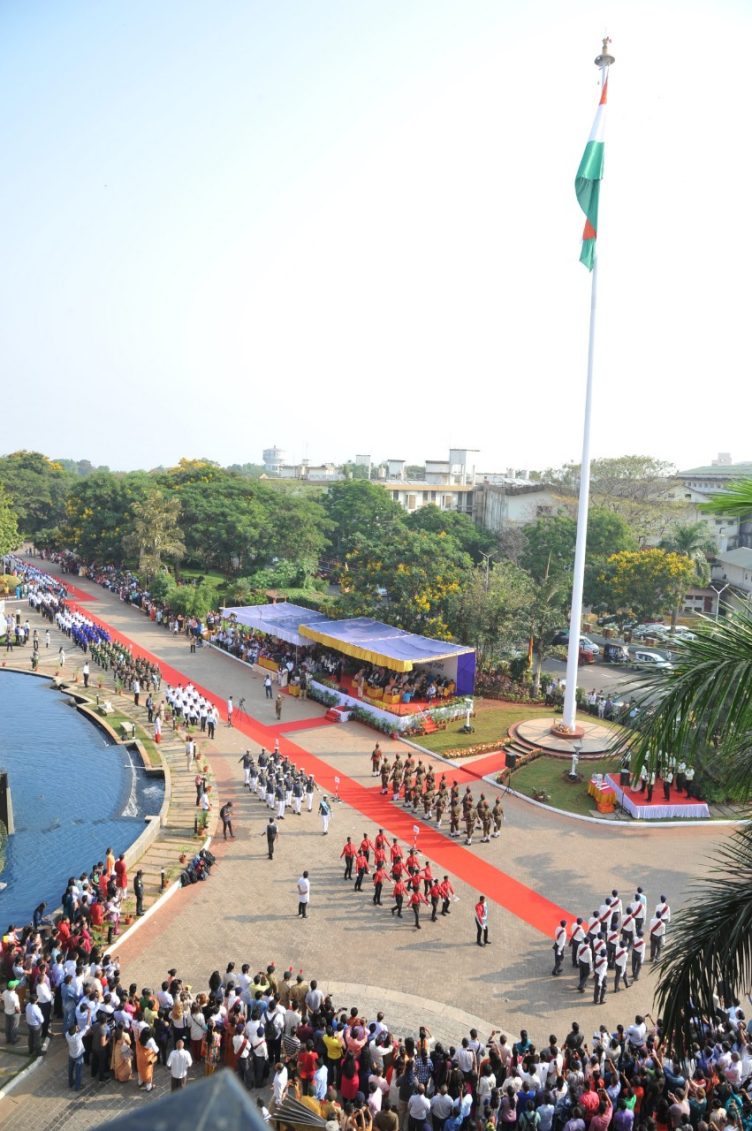 In the silver jubilee year, Manipal Academy of Higher Education, Manipal celebrated the 69th Republic Day by hoisting a new Tri-colour on a high flagpole. Pro Chancellor Dr H.S. Ballal hoisted it. That was an additional attraction this year to the celebrations, hosted by the flagship institute Kasturba Medical College, Manipal. The flag will flutter 24x7 on the 125 feet high mast pole right in front of the University's administrative building.
Dr Ballal also inspected the guard of honour and took the salute at the smart March Past by the constituent institutions, NCC, Security and Asare. Dean of KMC Manipal, Dr Pragna Rao welcomed the gathering and Vice Chancellor, Dr H.Vinod Bhat delivered the Republic Day speech. Manipal College of Nursing won the first prize in marching and their little sisters, School of Nursing came second. Welcomgroup Graduate School of Hotel Administration took the third prize.          
MAHE is the first private university in the country to have the national flag flying on a flagpole as high as this. Two years ago, the Union HRD Ministry had made it mandatory for all Central Universities in the country to have similar flags on a flagpole of 207 feet. Giving details of the flag, Col Badri Narayan, Director purchase said, That it would be illuminated for visibility even at night. Four 400 W MH floodlights are mounted on to an octagonal to Illuminate the flag pole from the ground to the top. The Size of the flag is 20 Feet x 30 feet. It will be hoisted and lowered with the help of a motor. The time taken to hoist the flag is approximately 5 minutes.
Director Projects, Captain Belliappa added that the PU coated mast which is 125 feet in height was 650 mm in diameter at the base and tapered to 200 mm at the top. The mast was secured to the foundation through a base plate with 16 bolts 1.0 m long made of special steel and was designed for basic wind speed of 47 mts /Sec with a gust factor of 1.14. A twin dome aviation lamp (GLS Type) is at the top of the mast.