MIT students design solar car prototype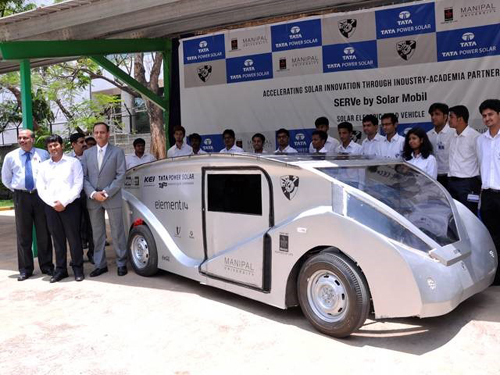 In what could be a classic example of academia-industry collaboration, Manipal Institute of Technology, Manipal Academy of Higher Education and Tata Power Solar, India's largest integrated solar player, unveiled the University's first prototype solar car ready for exploring commercial viability in Bangalore on April 22, 2015. The solar car called SERVe (Solar Electric Road Vehicle) was designed by 27 students who made up the SolarMobil team. Work on the four-wheeled prototype started in 2011. It weighs 590 Kgs and is a two-seater solar car which can reach up to 60 kmph with a cruising speed of 30Kmph.
Designed keeping in mind the mobility and commercial viability, the solar panels have been custom-made to fit the car's curved surface enhancing the aerodynamics and performance of the vehicle. The highly efficient customized panels weigh just 35kgs and provide up to 960 watts power and weigh less than half of the conventional panels. The car also houses a Direct Solar Drive, powered by solar panels, to maintain the cruising speed and is supplemented by extra power from its high-end energy storage system.
About the project Dr P. Giridhar Kini, Associate Director IL&P, Manipal Institute of Technology said, "We are extremely happy to see how our students have shown their passion for green energy through SERVe. The industry-academia collaboration is the key to foster innovation among the student community. Hence, working with corporates like Tata Power Solar helped our students get technical support and knowledge transfer. The team looks forward to working with more companies for future projects to continue to nurture student-level innovation".
Ashish Khanna, ED and CEO, Tata Power Solar had this to say: "We are pleased to be part this innovative project driven by a talented student-team. This project epitomizes Tata Power Solar belief that fostering innovation is key for the proliferation of solar power. We not only encourage innovation within our organization but also facilitate university participation for this cause, since they can play an important role in driving innovation in partnership with the industry. The solar car is one of many ventures which we have supported, and we firmly believe India's students will act as a key contributor in the progress of our solar industry".
The core members of the student design team SolarMobil, include: Anudeep Reddy, Jeet Bannerjee, Siva Bhushan Reddy, Anjan Kumar, Varun Gupta, Rohan Sahdev, Madhav Lakhotia, Samay Goenka, P. Sulekh, Akshat Singh, Amol Grover and Nikhil Gumidelli.
The vehicle's three main design and fabrication components include:
Customized Solar Panels:
The customized solar panels provided by Tata Power Solar are made of high efficiency monocrystalline solar cells encapsulated with an aluminium back sheet and a poly carbonate front sheet. These light weight and highly efficient solar panels are placed along the curved surface of the car's roof, ensuring that the aerodynamics is not compromised. The solar panels also help increase the range of the car, which is crucial in ensuring speed and mobility.
High End Battery System:
The car's Energy Density Li-ion Battery pack allows a speed of 150km on a full charge. This high-end Battery Management System monitors the individual strings of the battery pack, ensuring proper health and safety. It is also fitted with a CAN-bus protocol to ensure fast, efficient and error-free communication.
Data Acquisition:
The car's data acquisition system uses the Rasberry-Pi; this central unit acquires data from the Battery Management System, Maximum Power Point Tracker and various others sensors to ensure proper functioning of all the systems. This data is later is used to analysis the vehicle's performance.
 
TECHNICAL SPECIFICATIONS
Car Dimensions
4400 x 1790 x 1380 mm
Track Width
1650 mm
Chassis
Chromoly 4130 steel tubular space frame structure (TIG Welded)
Body
Glass Fiber Reinforced Plastic (GFRP)
Brake System
Dual Hydraulic Line System
Suspension
Push Rod Double Wishbone SLA type
Steering
Rack and Pinion with zero-bump steer geometry
Transmission
2.1:1 Chain Drive with Open Differential
Energy Storage
6.5 KWh- Samsung 18650 Li-Ion Cells
Solar Panels
1KW Solar Array- Tata Power Solar
Motor
Agni 155R PMDC Motor, Max torque: 130 Nm, Max RPM: 2500
Data Acquisition
CAN Protocol interfaced using Raspberry Pi SBC