Stationery Drive by VSS Club, SOM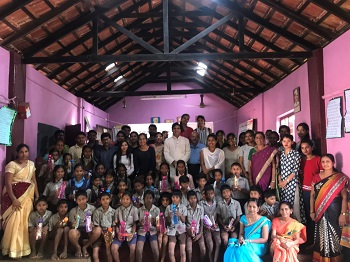 On the occasion of DaanUstav (2nd -8th October, 2018), Stationery Drive was organised by Voluntary Social Services (VSS) Club of School of Management (SOM). The volunteers from the club actively participated in collecting stationeries and distributing it to Manchikodi Govt. Primary School, located in Manchi village of Udupi district. There are around 75 students studying in the school. The collection boxes were kept in the campus and was made available for the entire week i.e., from 2 – 8 October. The students not just from SOM but also from Department of Commerce (DOC) took keen interest in knowing about this drive. So the volunteers of VSS, SOM took the initiative of promoting the event. Posters and messages were shared in and around the campus. The volunteers visited every classroom explaining students what the event was all about. We had an overwhelming response from the students. Students and faculties together contributed around more than 300 hundred pencils, 200 pens and more than 200 other stationeries including erasers, scales and sharpeners. We had two sponsors, one who contributed colouring books and crayons and the other who contributed water bottles. All these stationeries were then segregated and gift wrapped the day before distributing. On 26 October, 2018 our team along with our Director, VSS faculty coordinator and VSS student president visited the Manchikodi Govt. School, where we distributed all the collected stationeries to the students. The students of 1st, 2nd,, 3rd and 4th standard were given colouring books, crayons along with a pencil, scale, a sharpener and an eraser. The students from 5th, 6th and 7th std. were given water bottles along with the remaining stationeries.
Dr Raveendranath Nayak, Director of SOM and VSS Co-ordinator Prof. Varun Kumar S G extended their support to the cause. The event had a great support from VSS SOM volunteers who extended their heart and soul in making this event successful one.