73rd Independence Day Celebrations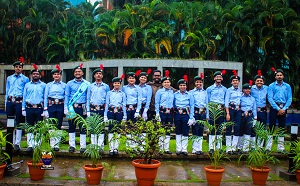 The73rd Independence Day celebrations were held at MAHE Edu building on August 15 2019. The event commenced with the hoisting of the flag at 8.50 am by Pro vice-chancellor of MAHE and was followed by the singing of National Anthem which evoked patriotism amongst the populace. The march past began with great ardour where cadets of all constituent institutes of MAHE rightly exhibited the motto of NCC i.e. "Unity and Discipline".
The contingent representing MIM was led by led by Baswanth Gowda Patil. The troop members were Ashwita Shetty, Namrata Shenoy, Raveena Furtado, Helisha, Akshata Amin, Ritika Ratnakar, Shraddha Mahale, Pooja Nayak, Jasmine, Monith Shetty, Akshath Rao, Shaunak Patekar, Vishal Acharya, Rahul, Pratyush Nair, Errol Quadras.