Dr Ranjith V K as a Resource Person at Manipal University Technology Business Incubator(MUTBI) and MIT Sponsored Entrepreneurship Awareness Camp (EAC)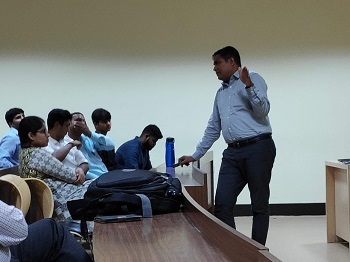 Dr. Ranjith V K delivered a talk on the topic Accounting and Finance for Budding Entrepreneurs delivered at Manipal University Technology Business Incubator(MUTBI) and MIT Sponsored Entrepreneurship Awareness Camp.(EAC)
Dr. Ranjith V K was invited as a guest speaker at MUTBI's Entrepreneurship Awareness Camp on 5th October, 2018 between 2-00 and 3-00pm. This camp facilitates the interaction between experienced academicians and successful entrepreneurs.
The talk was on the topic "Accounting and Finance for Budding Entrepreneurs". It covered basics of accounting, process of accounting, major financial decisions made by entrepreneurs. Contents that were covered under accounting includes, the need and importance of accounting, accounting as a language of business, important aspects of accounting process, need for preparation of Income statement and Balance sheet. These topics were covered by using real life examples of individuals who operated entrepreneurial businesses.
The second half of the interaction covered topics on financial management. Major decisions made by finance managers were covered. Difficulties in making the financing, investment and dividend decisions were decisions were also discussed. The logic of operating cycle and steps to be taken to reduce operating cycle days were also discussed. There topics were presented before the students without using technical words in the domain of accounting and finance.
The talk was attended by 70 students from MAHE (MIT, KMC, MCODS, DOC, SOC, SOIS) and St. Aloysius College, Mangaluru. Upon completion of interaction, few students asked doubts on issues like determining pricing, the process of collecting information on competitors, the process of benchmarking were discussed. The questions raised were answered in simple language without using jargons. The entire experience was enriching. The mix of students and their level of curiosity paved way for creating a sense of interest in the topics discussed.