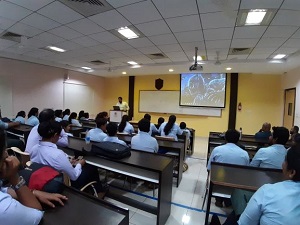 The leadership club of Manipal Institute of Management, MAHE, Manipal, in association with the Center for Social entrepreneurship, MIM, MAHE, organized a guest talk on " Entrepreneurial Support" January 10 2020.

 Mr Subhash Bangera, founder, shlokaa Enterprises and Mr Prithviraj Nayak, District Manager, CEDOK, were the resource persons for the sessions. The talk session started with the keynote speaker Mr Subash Bangera, who explained various facts and information regarding entrepreneurship and how one can be a successful entrepreneur. He initiated his presentation with the process of being an entrepreneur which is by setting the goal and then executing them wisely.

 The second part of the session was handled by Mr Prithviraj Nayak and he delivered the lecture on various skill development and training programmes that are being organized by the Govt of Karnataka under Centre for Entrepreneurship Development of Karnataka (CEDOK). He progressed the session by introducing the delegates with various types of entrepreneurship loans available in the bank.