INAUGURAL CEREMONY OF HEALTHCARE CLUB – PANACEA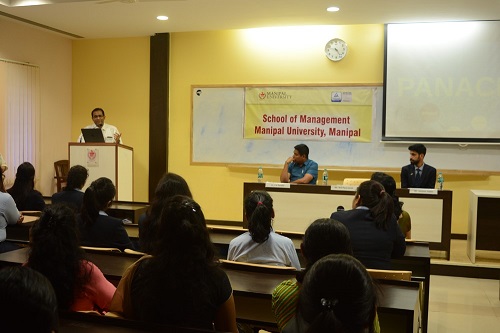 "The best way to find yourself is to lose yourself in the service of others" as told by Mahatma Gandhi, was the founding base of the Healthcare club of School of Management.
The Inaugural ceremony of the Healthcare Club PANACEA was held on Saturday 19th August 2017 at 4:15 PM at School of Management, Manipal.
The healthcare club was inaugurated by Mr. Anil Paul Jacob, Asst. General Manager- Marketing, Kasturba Hospital, Manipal, by lighting a lamp which signifies knowledge and is a sign of prosperity followed by the Inaugural address by the Chief guest. The chief guest emphasized on the importance of marketing in healthcare and how the healthcare marketing is different from marketing in other field and how it is required for effective functioning of the hospital etc.
Dr. V K Ranjith, MBA Program Coordinator spoke about the importance of the Healthcare Management Program and aspects of the application of the same in the ever changing ever growing global healthcare market.
Mr. Sanjeeth Yadav, President of the club presented the roadmap of the club activities with unveiling the club's mission, vision. He also introduced the office bearers of the club to the audience.
Dr. Swathi K S, coordinator of healthcare club spoke about enhancing the skill sets and utilizing the opportunity for career development.
Ms. Andria, the vice-president of the club delivered welcome address where as Ms. Mugdha conveyed the vote of thanks. Ms. Laxmipriya was the master of the ceremony for the program.