BEST MANAGER EVENT OF HEALTHCARE CLUB – PANACEA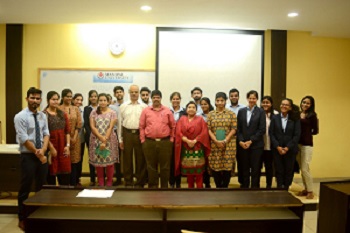 Life is not measured by the days we live but by the number of moments that we live in those days. The event was organized to explore and simultaneously motivate the healthcare students to groom their managerial skills.
One of the most eagerly awaited occasions in any Business School is its BEST MANAGER Competition.
The aim of the event was to identify the student having traits of a good manager. The competition aimed to find out how he/she demonstrates the skills, knowledge and talents of a good manager. It further assessed on how he/she uses the strategies to solve the problems of the concerned organization.
Dr. Nandan Prabhu, Dr. Sagarika Rajesh Kamath and Prof. Raveendra Rao K. were the judges of the various rounds involved in the competition.
The Program started at 2:00 pm. Mr. Sanjeet Yadav (President), Miss. Andrea (Vice president), Miss. Keerthi B S (Secretary) of Healthcare Club of School of Management welcomed judges of the event and the students of Healthcare MBA, then followed by Welcome speech and introduction of guests by Miss. Andrea.
Mr. Sanjeet Yadav, President of the club addressed about the best manager competition. The competition had three rounds of which the first round was group discussion, second round was case analysis and third round was stress interview.
The topics for group discussion were decided and disclosed on the spot based upon the lottery method. The shortlisted students participated in the second round which was a case analysis and same was continued further to the third round i.e, the stress interview.
Finally the winners were announced by the president of the club and followed by prize distribution by the judges.
1st prize – Swathi Sreeshan.
2nd prize – Leela Sahana Niranjan.
The program ended on a happy note with every student satisfied of the skills and abilities exhibited by them throughout the competition and the learning and knowledge they acquired from participating in such a mind boggling and skill testing event and gained experience for the rest of their MBA career.