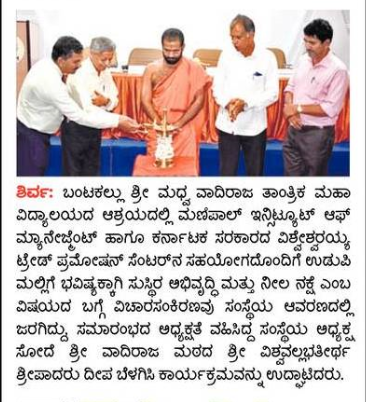 Sustainable development of Udupi Jasmine-Road Map for success-at Shri Vadiraja Institute of Technology and Management, Bantakal, Udupi- on February 28, 2020, the programme was inaugurated by Paramapoojya Shri Shri Vishwavallabha Theertha Swamiji of Shri Vadiraja Mutt, Sode. In his inaugural address, he insisted on the use of Udupi Jasmine and how to popularize it through various activities. Shri Devananda Upadhyaya, Ex-General Manager, Syndicate Bank in his speech explained the role of Udupi Jasmine as a product. He illustrated the uses of Jasmine and stressed the need to understand the pricing mechanism of the same.

Mr. Ramakrishna Sharma, President of Udupi Krishika Sangha gave a detailed idea about the farmer's field-related problems and need for a platform to solve those issues.
Dr Harish Joshi, coordinator, Centre for Social Entrepreneurship was the coordinator of this programme.
Dr Thirumaleshwara Bhat, Principal, SMVITM welcomed the guests. The programme was attended by members from the farming community, entrepreneurs, media personnel and researchers.
This initiative intends to capture the pulse of various stakeholders of Mattu Brinjal and Udupi Jasmine and help them.