Guest Lecture by Dr. Umesh Prabhu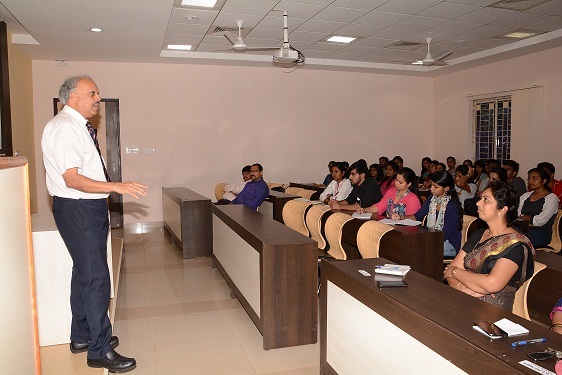 A guest lecture was delivered by Dr. Umesh Prabhu to the students of MBA in Healthcare Management; School of Management dated 16.08.2016 at 2.30pm.
Dr. Umesh Prabhu is the Director of Wrightington, Wigan & Leigh Foundation Trust in UK and Director of overseas recruitment of doctors.
Dr. Prabhu began his lecture by elaborating the significance of various human attributes like kindness, compassion, caring nature, honesty and courage which grooms an individual as a leader. He emphasised on the requirement of more number of leaders than managers in the field of healthcare which requires compassion and human touch. He also explained what attributes separates a leader from a manager. He further mentioned that tneed of the hour is to question the functioning of our systems and bring about revolutionary changes which only a leader can do. The values of an administrator that separates oneself as a leader should be based namely on 'atma vishwas', 'hemme' which means confidence and being proud of what you are.
His lecture revolved around the advantages of skills leadership over management. He cited several leaders around the world who by virtue of their values brought about positive changes and welfare to mankind. He also narrated about his personal struggles and failures which emboldened him to do the right thing despite of criticism. He owes his success to the values engrained by his parents and teachers and the determination to bring changes in the lives of his patients.
His organization has achieved 43 awards for providing excellent patient safety and care and minimal loss of life. The organizational success is a result of immensely motivated staff determined to provide patient care with compassion and smile. For such success it undoubtedly requires a leader, who acknowledges, motivates and cares for the employees and Dr. Prabhu was able to be such a leader.
His lecture which lasted for an hour was highly inspiring and motivating for the students who aspire to be the future leaders and managers of the healthcare industry.