A Guest Lecture by Prof. Biju Varkkey the Faculty Member, and Chairperson of HRM Area at IIM Ahmedabad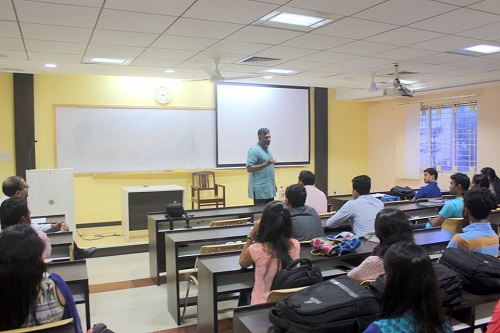 A Guest lecture was delivered by Prof. Biju Varkkey the faculty member, and Chairperson of HRM Area at IIM Ahmedabad on 29th July, 2016 at School of Management, Manipal Academy of Higher Education. He spoke on the recent developments in HR and performance management. Why more and more companies are moving out of the bell curve performance appraisal. While speaking about the drawbacks of the bell curve and normalization of performance data, he compared with the Pareto principal of management of 80/20 management. The session was interactive and actively participated by the MBA students. The lecture was arranged as the part of the Performance Management course which is taught by Prof. Suraj Francis Noronha, Assistant Professor, SOM.
Prof Varkkey has professional experience spanning industry, consulting and management schools like IIM Lucknow and MDI Gurgaon. His co-authored text book on Human Resource Management is used extensively by students and executives. He also serves as independent director of a leading PSU back, and public limited companies and as board member takes keen interest in improving governance standards, HRM practices, performance review processes and rewards and CSR.