Inauguration of the Cultural Club "NEXUS-2017"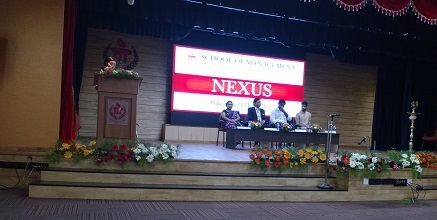 Art is that in which the hand, the head and the heart of man go together. School of Management, Manipal inaugurated the cultural club ceremony on 22nd August 2017 at Dr. TMA PAI hall.
On this occasion the classes were suspended and all the students were given an opportunity to showcase their talents and come up with their best ethnic attire. As a part of this ceremony we the office bearers of the cultural club along with the support of our faculty coordinator Dr. Sagarika Kamath invited Mr. Elton Mascaranhes as our chief guest for the day who is a well-known dancer, choreographer and now an actor who has recently acted in a lead role as a hero in a Konkani Movie "Nashibacho Khel" and also worked with artists like Amitabh Bachan, Parineeti Chopra, Sonali Bendre and many more. In order to grace this event, our director Dr. Raveendranath Nayak motivated all the students by his thoughts.
After the morning inauguration, to begin with a blast we had a Flashmob performed by all the 2nd year students in order to create a huge impact at the beginning. We have also conducted an open event competition – "Mr. & Miss SOM" and had approximately 25 participants with the courage to win the title. The requirements for this competition were purchased which was a sash and crown along with a gift for both the winners (pen & keychain). We winded up the morning session at 1.00 pm and watched the stage come live at JASHN – an informal part of the ceremony. Here all the performing artists including the MC's were systematically auditioned and screened so as to ensure that only the best of talents are showcased on the day of the inauguration. This informal part of the function began at 2.15pm and all the performances were enjoyed by the students.
Overall the inauguration along with the informal half of the ceremony was a successful one without any interruptions and delay in timings which led to be our first successful event. Few of the pictures of the function are attached below.