The Best Manager in Healthcare Competition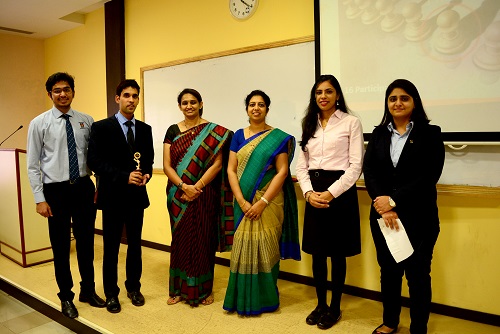 The Healthcare Management Club of School of Management organized 'Best Manager in Healthcare' competition on 15-Nov-16. Mr. Sanjith Yadav had won the title and Dr. Andria finished runner up.
The aim of this competition to identify the student with the traits of good manager and how he demonstrate the skills, knowledge, talents of good manager. Over 18 students had taken the part in the compitition.
The first round was a group discussion with interesting topics like climate change & changes in one part of the world leading to changes in other parts of the world. The participants were enthusiastic, actively took part, the group discussions were healthy, directed and well put.
The second round was case study round, each participant was given 10 minutes for preparation and were expected to present their case in about 5 minutes. They presented their cases well. Out of the 5 participants, 3 were qualified to go to the next round.
Then came the most exciting round- the personal stress interview. All present seemed to enjoy this round with a lot of cheering and laughter. This round saw the brave and bold side of the finalists who withstood the test of time and teachers and the torments of fellow mates!
The event was judged by Professor Dr. Smitha Nayak, Professor Ms. Sonal Nayak and Mr. Arvind. The winners were given trophies and appreciated by Dr. Swathi, and Dr. Smitha Nayak. The event was successfully conducted in the presences of The Director Dr. Raveendranath Nayak, all Teachers, students and members of the healthcare management club. Dr. Apoorva Joshi was the master of ceremony for the event and Mr. Kaustubh Kolwankar, President of the club delivered the vote of thanks.