FDP Conducted by SOM Faculty Members in Besant Women's College, Mangalore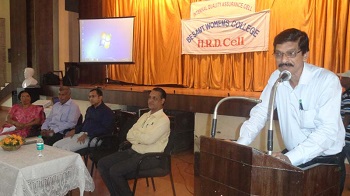 Faculties of School of Management, MAHE, Manipal has conducted a faculty development program on research design, publication and teaching methodologies for the faculty members on 14th February, 2018 at Besant Women's College, Mangalore. Principal of the College Dr.Sathish Kumar Shetty inaugurated the program. Ms. Usha was the Convener and Mr. Syed Khadar was Coordinator for the program.
Dr. Yogesh Pai P conducted the first session of the workshop on the topic of research design. The session gave an overview of the research and how to design the research proposal to the faculties. The session adopted lecture and discussion method for delivering the topic.
Dr. Nandan Prabhu addressed the faculty members about new emphasis on publication impact. He has also highlighted on the ways in which publication impact is making an impact in the research world. The session also throw light on how quality and quantity of a researcher's publications provide a key measure of their research productivity.
Dr. Smitha Nayak and Dr. Suhan in the afternoon session on teaching methodologies spoke about teaching for the 21st century: Why is it a challenge? , What do we do different? and How do we get there? . They explained the blooms taxonomy, Massive Open Online Courses (MOOCs), Coursera (2000 courses) and Swayam.