A Session on Resume´ and Cover Letter writing by HR Club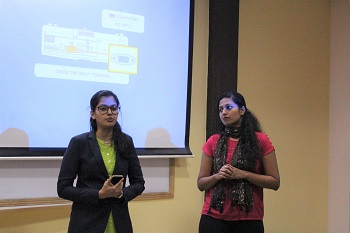 First impressions are often lasting ones. During the hiring process, the first thing prospective recruiters assess aspiring candidates on is the effectiveness of their resume´. To help their fellow management graduates capitalize on this opportunity to create a good initial impression, the HR Club of School of Management conducted a workshop on creating an effective, professional resume´ and cover letter on 20th December 2019.
Labelled "A Session on Resume´ and Cover Letter writing", this innovative initiative was flagged off by the President of the HR Club, Ms. Katha Naik, who welcomed the students and introduced them to the team conducting the workshop. The Faculty Coordinator of the HR Department, Dr. S. Lakshminarayanan, then proceeded to explain to the eager audience, the objectives of the workshop and why it was a topic of utmost importance when seeking employment in the industry. During the session, the Chief Trainers -Ms. Angel Joy and Ms. Priyanka, explained to the attentive audience the etiquette followed by the industry and what current trends were being used when compiling a resume´ and cover letter. After highlighting key points to look out for, the Chief Trainers, with the support of the fellow members of the HR Club, guided students and offered to help tweak the students' resume´s so as to help them stand out among other candidates applying for the respective jobs. The session saw high levels of interaction between the audience and the trainers and at the end of the session, the team received very positive feedback. The Organizing Team comprised of Angel Joy, Priyanka, Katha Naik, Prateeksha, Ankita Das, Rakshitha, Sharine Martis, Shoyal, Raj Satish and Anusha Raj.