Healthcare Management Conclave - SEHAT 2018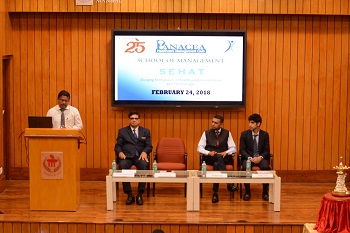 SEHAT 2018
(Surging Enthusiasm in Healthcare Administration and Technology)
PANACEA, the Healthcare Management Club School of Management, a constituent institute of MAHE, Manipal has organized a half day student conclave on February24, 2018 for its MBA Healthcare Management students. The theme of the conclave was 'Future Trends in Healthcare Management'.
The main objective of the event was to provide an industry interaction platform for the students that helps them enhancing their practical knowledge and make them ready for the corporate world.
Dr. Avinash Shetty, Medical Superintendent of Kasturba Hospital has inaugurated the conclave. He emphasized on the five major challenges faced by the healthcare industries these days. Dr. Avinash Shetty said that the changing customer expectations, increasing healthcare cost, adapting the administrative practices to the dynamic external environment, and building a healthy bond between healthcare professionals and administrates are the major concerns that need to be tackled carefully. As public perceive hospitals as profit making centers, the administrators have a great challenge in convincing the healthcare consumers regarding the various costs involved in the delivery of health care services.
Mr. Mohit Gupta, Manager Human Resources, Sir Ganga Ram Hospital, New Delhi was the Guest speaker of the conclave. He deliberated on the various areas the healthcare managers need to focus to address the various challenges that reduce the complexity within the healthcare organizations.
Mr. Srinivas Rao, Founder Member and Director of Institute of Supply Management, Bangalore enlightened about how the Technology advancement penetrated in to healthcare in providing better access and quality service. He also further discussed about new gadgets and equipment's being used these days to provide comfortable affordable and quality healthcare services to the patients such as medicine vending machines in the pharmacy, new healthcare apps, medical equipment resource sharing which may be new avenues in healthcare entrepreneurship.
Dr. Raveendranath Nayak, Director of School of Management, delivered the welcome address. Dr. Swathi K S, Faculty Coordinator of MBA-Healthcare Management and faculty of School of management were present in the event.