Finance Club 'MUDRA' was Inaugurated by K. Devananda Upadyaya, Rtd. General Manager Syndicate Bank, Dean, ICICI Manipal Academy for Banking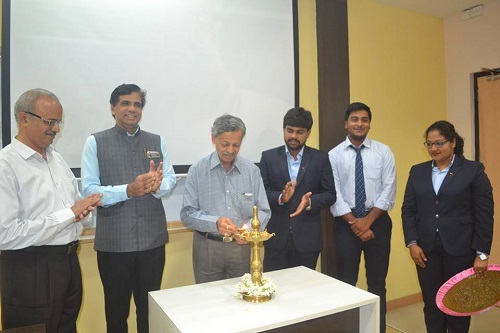 The School Of Management's Finance Club 'MUDRA' was inaugurated on 16th August 2017 by K. Devananda Upadyaya, Rtd. General Manager Syndicate Bank, Dean of ICICI Manipal Academy for Banking. The inauguration had the presence of our Director, Dr.Ravindranath Nayak and the teaching faculty of School of Management. The program was facilitated by the faculty coordinator, Dr Nandan Prabhu and master of the ceremony for the inauguration was Ms. Manasa, Joint secretary of the club.
The inauguration started with invocation by Amol Patwardhan followed by lighting the lamp. Preetha V Shetty, Vice President of the club welcomed the gathering followed by introduction of Chief Guest by Mr. Vivek V Nayak, President of the Finance club.
The chief guest addressed the students where he shared his experiences working with the banking departments and the opportunities that are present to the finance students. The Chief Guest spoke on the topic 'Demonetization – Few Perspectives' where he briefly spoke about the Historical demonetization decision taken by the Government under the leadership of Narendra Modi. He spoke about the Black money which was circulating in the country as well as in foreign countries. He spoke about the disadvantages of having High value currency and mentioned that Digital payments is the key for solving the issue of black money. He also spoke on how people are hiding their money i.e. through Real estate and Gold. He also spoke on Political Perspective of demonetization. He stated that due to this decision many new tax payers have come up which is a good sign for the society and development of the country. He also spoke about the responsibility of Charter accountants in solving this issue. He also spoke about fake currency circulating in the market which were printed by Pakistan. Finally he told the students importance of managing the people in the organization.
The presidential address followed, where the president of the club,Vivek, introduced the office bearers and the executive committee of the club. Karthik Krishnan, Secretary and Shrinidhi, Executive Member shared the plan of action for the year through a brief presentation. The vote of thanks was delivered by Mr. Akshay Prabhu , Treasurer of Finance club. The gathering later dispersed for high tea.