Annual Day of Manipal Institute of Management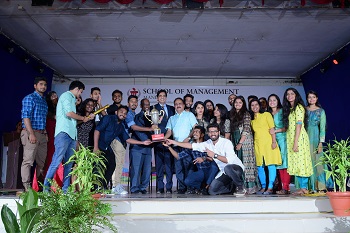 "Being an employment provider is always better than a job seeker"- this was the remark made by Shri Krishna Rao Kodancha on the occasion of Annual day of Manipal Institute of Management, MAHE, Manipal. In his guest talk Krishna Rao Kodancha stressed the need to study the market closely before jumping into any conclusion of a probable product or service. A business strategy need to be coined for every business and if it is unique it represents the entrepreneurial characteristics of an Individual. The study in the institute shall be towards getting such knowledge was the theme of his talk.
Dr P.L.N.G. Rao, pro-vice chancellor, Quality and Assurance, MAHE spoke about the qualities of Dr TMA Pai, the founder of MAHE and stressed the need to inculcate such qualities in student life.
Dr Raveendranath Nayak, Director, Manipal Institute of Management presented the annual report highlighting faculty and student achievements during the year.
On this occasion, two gold medals were handed over to meritorious students. The gold medal was sponsored and in the name of Dr Sathish Shetty Charitable trust. The president of the trust Dr Sathish shetty was present in the program.
Dr Rajashekaran Pillai and Prof. Raveendra Rao introduced the guests to the audience. Dr Kavitha announced the name of the students who won the gold medals. The program began with the welcome address by Dr Savitha and Dr Pallave upadhyaya proposed vote of thanks. The formal function was followed by variety entertainment by the students.