Guest talk on Digital Health Initiatives in India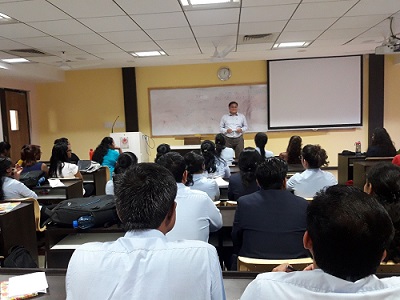 Guest talk on Digital Health Initiatives in India
Dr. Suptendra Nath Sarbadhikari, Dean (Academics and Student Affairs) and Professor (Health Informatics) in International Institute of Health Management Research (IIHMR), Delhi has delivered a guest lecture for MBA Healthcare Management students on the topic 'Digital Health Initiatives in India' on July 18, 2018 at School of Management.
He discussed about the various initiatives of government of India on digitalization of healthcare delivery. As digitalization of healthcare system enables integration of health information to ensure continuity in delivery of health care services. He also deliberated on the role of government in announcing standards and making policies that encourage the healthcare organization to go for digital services. The session was very interactive and thought provoking with the discussions about telemedicine, tele-education, tele home cares services and penetration of artificial intelligence concept in healthcare service delivery.