Marketing Conclave FLAME 2K19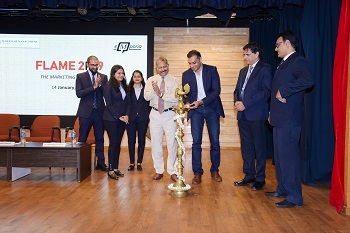 School Of Management, MAHE held its annual Marketing conclave FLAME 2K19 on 14th January 2019. The event was organised by Emporia - the Marketing club of MIM. The Vice President of OLA Cabs,Mr Rahul Maroli, was invited as Chief Guest of FLAME Marketing Conclave.
Dr B. Rajashekhar, Dean, SOAHS, MAHE presided over the function and kept the crowd engaged with his inimitable charm and multilingual prowess. The chief guest - Mr Rahul Maroli, then addressed the budding management graduates and expressed his vision of "Moving towards a shared economy". He outlined the evolution of the business processes of Ola cabs and emphasized the importance of the entrepreneurial spirit among the youth in taking the economy forward. This was followed by an interactive session, where the students posed a number of questions to Mr. Maroli about the operations and business model of Ola, which the Vice President of the tech company promptly addressed.
With many minds roused in the concept of entrepreneurship and management, the students had discussions amongst themselves that outlasted the event's duration, marking the success to the prestigious event.