FLAME: Inauguration of Marketing Conclave at School of Management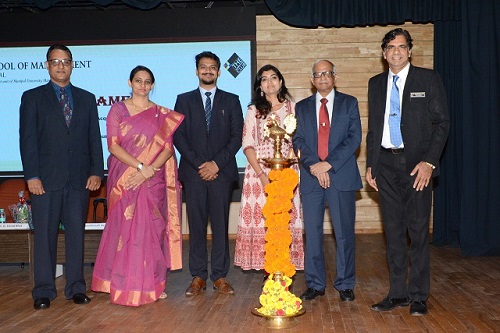 "Create your own identity. Don't attempt to imitate others. Follow your passion and do what you want to do in your life. Nor should you compare yourself with others. The journey of learning will become exciting provided you graduate yourself from being a job-seeker to being an entrepreneur. Brands and market image of the institutions where you study would not necessarily matter provided you have innate talent and an aspiration to build yourself," said Ms. Chitra Uttappa, the CEO and Managing Director of Aroma of Coorg, Bengaluru. She was speaking on the occasion of the inauguration of the FLAME, the marketing club of School of Management, Manipal Academy of Higher Education.
FLAME organized a 'Marketing Conclave' on 23 August in order to bring together industry practitioners and academicians. Ms. Chitra Uttappa delivered the key note address on this occasion.
Dr. H. Vinod Bhat, the Vice-Chancellor of Manipal Academy of Higher Education presided over the inaugural function of the conclave. On this occasion, he unveiled the logo of the faculty entrepreneurship initiative 'Manivarnas Book Distribution Pvt. Ltd. Speaking in this context, Dr. Vinod Bhat said that the idea of faculty entrepreneurship is a unique idea that would facilitate Manipal Academy of Higher Education Press to concentrate on its core academic pursuit of publication of books without worrying about its marketing. He also told that this is the first of its kind initiative taken by any Indian University.
The nature of the business venture of 'Manivarnas Book Distribution Private Ltd.' will be such that it is going to be an independent institutional entity. Organizationally speaking, though it won't be a part of Manipal Academy of Higher Education, it will play an active supporting role in the publication ventures and requirements of Manipal Academy of Higher Education. Further, Manipal Academy of Higher Education will offer its encouragement to its venture in an informal and non-contractual levels.
Dr. Ravindranath Nayak, the Director of School of Management delivered his welcome address. Dr. Smitha Nayak, the faculty co-ordinator of Centre for Advances in Marketing, presented an overview of the faculty entrepreneurship. Mr. Yashas Sridhar, the President of FLAME, proposed vote of thanks. Mr. Suhan Mendon, the faculty coordinator of FLAME, was also present on the occasion. Ms. Shalaka compered the programme.