Inauguration of the Student Research Club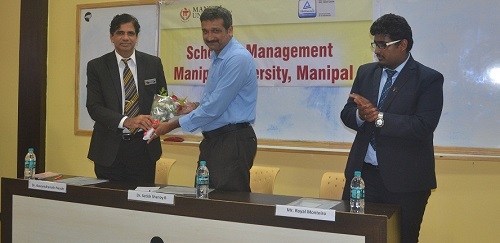 In its commitment to inculcate the importance of research in management graduates, School of Management, a constituent unit of Manipal Academy of Higher Education has constituted the Student Research Club. The club was inaugurated on 9th August 2017 at the School at 3.30 pm. The Director Research (Technical & Management), Manipal Academy of Higher Education Dr. Satish Shenoy was the Chief Guest of the function. In his insightful speech, Dr. Shenoy coaxed the students to join the mission of the University to be recognized as a research-intensive university by adequately contributing to the knowledge creation and dissemination. He underpinned the three advantages of research such as Reputation, Networking and Pecuniary reward, and called on the club members to leverage the research facility of the University. Dr. Raveendranath Nayak, Professor and Director of the School spoke on the indispensability of Research in management education and profession.
Faculty members also ignited the minds of the students in the function. The president of the club Mr. Royal Monteiro elucidated the action plan of the club. It is understood that club is going to conduct series of training sessions to build research skills in the aspirants.