Operation Club Inauguration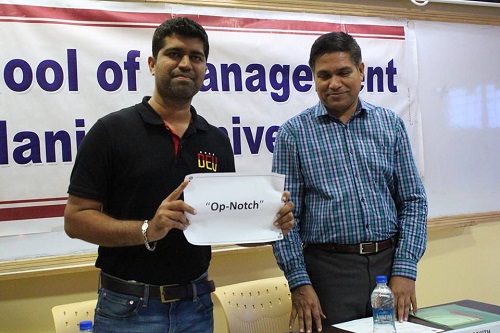 The Inauguration ceremony for the Operation Management club was held on 26/7/2016 at School Of Management, Manipal. The Guests for the event were Prof. Vasant Kamath, Assistant Professor TAPMI, Dr. V.K Ranjith, faculty member of SOM. Prof. Vasant Kamath spoke about the essence of operations across industries, its impact on present business scenarios. He appreciated the idea of forming an operations club within SOM and suggested about the implications as well as benefits that the club could have on the students and participants within the club. He informed that the job prospects in the field of operations has increased immensely.
Dr. V.K Ranjith addressed and congratulated the gathering. He expressed his whole hearted support towards the working of the club.
Mr. Jishnu Venugopal, President Operations management club explained the objectives of operations management club and the list of planned activities for next 6 months.
The club name "OP-NOTCH", which denotes excellence/ quality at the highest level was unveiled at this occasion.