Healthcare Management Conclave – SEHAT 2016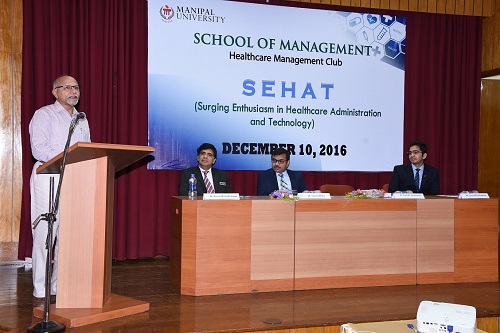 SEHAT-2016
The healthcare management conclave – SEHAT 2016 (surging enthusiasm in healthcare administration and technology) was a successful event. The inaugural event had Mr. Saumil Modi, VP of Eisai pharmaceuticals India ltd. as the chief guest along with Dr. Col. Dayananda, Medical Superintendent, Kasturba Hospital, Manipal, Presiding over the inaugural function, Dr. Raveendranath Nayak, Director, School of Management, delivered the welcome address to the all attendee. Mr. Kaustubh Kolwankar, President of healthcare Management Club, Presented the report on the various activities organized by the club and the overview of SEHAT 2016, Ms. Sneha Samaga, and Joint President of the club delivered the vote of thanks for the inaugural function.
The post inaugural session consisted of two guest lectures
The guest for the event Mr. Saumil Mody and the key note speaker Mr. Vikash Varma, Senior analyst Manager at Tata consultancy services, an alumnus of our very own college were perhaps the highlight of the whole day as they brought along their enterprising charismatic and awe inspiring personalities. Their talks filled us with eagerness to improve ourselves and our surroundings. They made us yearn to contribute to the society and showed us how to start and progress with it, for a change. The lectures delivered were very educative and interactive, which had the students brainstorm and add to the lectures. The event turned out to be an excellent opportunity for students to get a new perspective of the corporate world and a window into the future of healthcare setting in India as well as globally. Indeed it was one of the best events with the best recipe for success, with great guests and an amazing open to interact crowd, there were many new topics that were discussed that could not have been possible otherwise. The amalgamation of all of the above made the event memorable and definitely has raised the bar for the rest to better their game. For an entire event Ms. Immaculate Christina was the Masterfor the rest to better their game. For an entire event Ms. Immaculate Christina was the Master of the ceremony and at the End of the Sessions Mr. Amrutesh, Secretary of the club delivered the vote of thanks.