Inter Class Table Tennis at MIM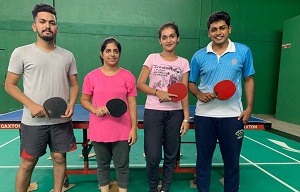 The inter-class Table Tennis Competition was organized by the Sports and Athletics club, Manipal Institute of Management. This tournament was held on 20th August 2019 at Recreational Club. The event was organized with the aim of selecting the best Table Tennis players who would represent MIM in the university level badminton competition.
The event was started on 20th August at 9:00AM. There were 11 girls and 22 boys contestants taking part in the competition. Four Tables were provided and all 33 players were made to play as per the Fixtures. On an average, each team took around 10 minutes to complete the Match. There were totally three events in Table Tennis. Singles, Doubles and Mixed Doubles. All the matches were knockout matches. The tournament was competitive enough which helped participants to show best of their skills.
SECURED

STUDENT DETAILES

1st

Name: Sudhish Menon & Shravan Bhandarkar

Class: 2nd year MBA (General)

Section: A

2nd

Name: Vishal Acharya & Abuzar Javed

Class: 2nd year MBA (General)

Section: B

MIXED DOUBLES

1st

Name: Sudhish Menon & Ashwita Shetty

Class: 2nd year MBA (General)

Section: A

2nd

Name: Bhavik K. & Shashwati

Class: 1st year MBA (General)

Section: A