CAROM INTER CLASS COMPETITION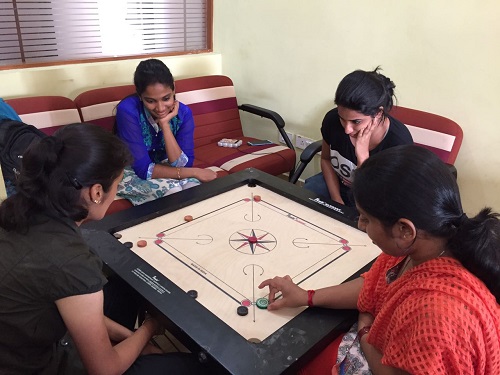 The Carrom Inter Class Competition was held on 27th October at School of Management. There were 45 contestants taking part in the competition.
A total of 4 Carom boards for 45 contestants. The Fixture were drawn and spilt Men's and Women's Singles and doubles match to be played simultaneously. The match's upto the quarter final was a knock out matches. Being a knockout competition, so losing a game would see them out of the competition. However, it was noticed that all the participants took careful moves while playing. Every participants in the tournament were equally strong. A platform was provided to participants and they utilized it to their fullest. First day ended with Women singles winner and women's double semifinal and Men's quarterfinal matches for singles as well as doubles
The next day game started with women's doubles final. The tension in the game kept increasing as the day went on. Men's singles and doubles Finals was a game to watch as the contestants played very well playing their best move. Finally, after a hard fought competition, results were known.
The results of Carom tournament are as follows:
Results Name and Class
Women Singles
1st Place Preetha Nitin John (1st year Section A)
2nd Place Manaswini Bhat (2nd year Section B)
Women's Doubles
1st Place Nidhi and Alapana (2nd year Section A)
2nd Place Sandhya and Janaki (1st year Section B)
Men's Singles
1st Place Vivek Nayak (1st year Section A)
2nd Place Mohd Mustafa (1st year Section B)
Men's Doubles
1st Place Vishwas K and Jishnu Venugopal (2nd year Section A)
2nd Place Royal Lobo and Rohan (1st year Section A)
This event was organized by two of the office bearers of Sports & Athletics Club, School of Management. The office bearers were enthusiastic and very keen to manage the event. They put a lot of efforts to pool in talented players from various streams of School of Management.