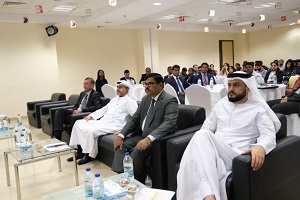 School of Business, MAHE, Dubai in collaboration with Manipal Institute of Management, MAHE, India and Manipal International University, Malaysia organized the fourth  International Conference on "Opportunities and Challenges in Business Management" on 25th and 26th February 2020 at MAHE, Dubai campus.

Dr.Kota Reddy, Academic President, MAHE, Dubai in his welcome address spoke about various opportunities and challenges for young entrepreneurs in the modern business world. Dr.Jason, Chairperson, School of Business, MAHE, Dubai, gave an introduction to the objectives of the conference. Dr V K Ranjith, Professor, Manipal Institute of Management, MAHE, India, addressed all delegates. Session keynote speaker Dr.Saif Ahmad Salam Ahmad Darwish, Head of communication and public relation section, Dubai Corporation for ambulance services, Dubai in his keynote session addressed about COVID-19 and its impact on world economy with special reference to China.

On the second day of the conference Dr. Gouher Ahmad, Professor of strategic leadership and international business, Skyline University College, UAE highlighted the impact of four stages of Globalization on the economy. In the afternoon session Dr Anupam Mehta, Senior Lecturer, Birmingham Business School, University of Birmingham, UK conducted a workshop on case teaching and writing. Faculty members, research scholars and students presented their respective research papers in concurrent sessions.