Guest Lecture by Mr. Shiva Prasad, Project Manager, Manipal Systems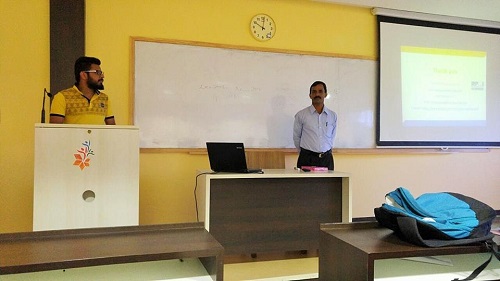 Guest lecture on 'Triple Constraints' in Project Management
Mr. Shiva Prasad, Project Manager of Manipal Systems, addressed the students of Operations management, on 15 July 2016 and briefed the students of SOM on "Triple Constraints in Project Management".
Explaining about various aspects of the project management, Mr. Shiva Prasad emphasized on managing the triple constraints in project management. He explained about Project management when carefully implemented helps an organization to reduce cost, lessen the strain on working capital, effectiveness in the use of resources, timely completion of various operations and continuous quality improvements. He discussed the concept of scope management for better clarity about the project is very important as it enables the project team to focus within the limits of the project. This helps a firm to combat any uncertainties that are likely to creep into the project. Pointing out to the fact that "Stakeholder Management" is critical as the people at the top management can influence the project to a greater extent. Hence it is very important that interpersonal skills are very much necessary while dealing with project teams. Time management, cost management, quality management along with the organizational culture management are building blocks of any project. Hence communication and understanding among the team members are crucial for any project to be successful.