MBA Students Conducts Social Outreach Program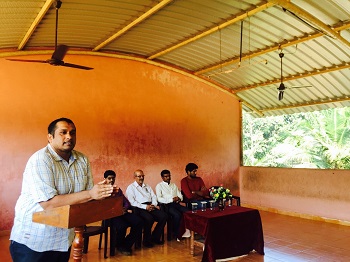 School of Management students of Manipal Academy of Higher Education conducted 'Leadership Training and Health awareness' program at Shivapura Govt. High School.
Voluntary Social Services Student club of School of Management, Manipal Academy of Higher Education conducted 'Leadership training and Health awareness Program' at Shivapura Govt. High School on 8th November 2017 for the students of class 8th, 9th and 10th. The Institution conducts various social outreach activities to make each student socially responsible citizen and to develop leadership skills in the MBA student before they join the corporates. Mr.Pushparaj and Mr.Prithviraj, the Alumnus of the institution and the social workers of Shivapura were the chief guests for the event. VSS club faculty adviser Dr. KVM Varambally and Prof. Varun Kumar were present. Students The VSS team along with Dr. Varambally and Professor Varun Kumar conducted a successful awareness program to the Government School, Shivpura. Health care MBA students conducted a talk on adolescence for the girls and for the boys activities on leadership and team building through various games were done. Also the stationeries were donated the school students which were collected during 'Prathyupakara' the stationery drive organized by VSS club of the institute in the month of October.