HR Club- Career Guidance Programme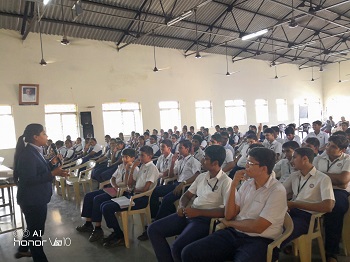 Horizon – the HR club conducted a career guidance programme for 10th standard students of T.A. Pai. English Medium High School, Kunjibettu Udupi.
The session was flagged off with the inaugural speech by the Head Master of the school, Mr Manjunath Rao. The presenters of the day Rakshita, Priyanka Nayak and Anusha Raj spoke about the various career opportunities available for the students after their schooling.
Ms Priyanka spoke about the opportunities in the science sector, followed by Ms Rakshita who emphasized on the options available in the field of Commerce and Management Ms Anusha delivered insights on the topic Mass communication and animation.
The session was attended by 107 students of the school who contributed in a making the session an interactive one. The team received a good feedback and their efforts were appreciated by the authorities of the school.