Industrial Visit to Commercial Printing Division, Manipal Technologies Limited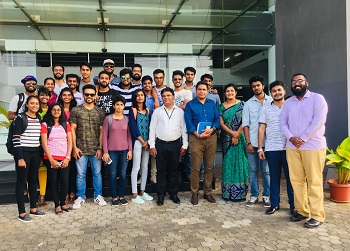 Students of first year MBA (Global Business) course visited the Commercial Printing Division of Manipal Technologies Limited (MTL) on October 23, 2018.
Students visited the pre-press, printing and post-press divisions. The Commerical Printing Division of MTL prints books, magazines, envelopes etc. for various organizations such as BFSI, Banks, Government, Education, Pharma, Telecom and Retail sectors. MTL has a dedicated 300,000 sq.ft. production unit for commercial production. The Public Relations Manager of MTL illustrated the color management system used for printing and also explained the functioning of hi-tech machinery such as Komori, Heidelberg, Mitsubishi etc. Students witnessed the ongoing jobs of wide-web-offset printing in heat and cold set as well as sheet-fed offset printing for books and other products. High speed and narrow web offset presses print on various substrates. The post press activities such as binding for books like hard case, perfect binding, saddle stitching, wire-O binding and spiral binding and finishing options like lamination, UV curing, screen printing, gold embossing, die cutting and glitters were explained in detail. Students interacted with the skilled workforce to understand the process flow and production scheduling.
The students also visited warehouses to understand the inventory management of the raw materials and visited post-press division to appreciate how the products are packaged and the wastes are managed.