International Student Exchange Club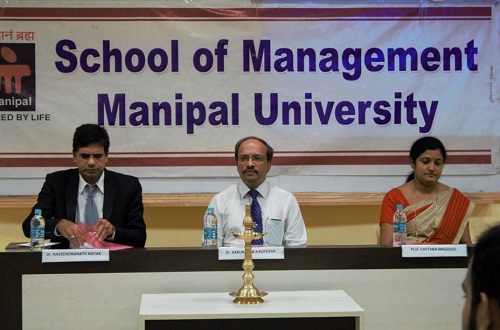 "Travel is the only thing you Buy, that makes you Richer "
The International Student Exchange Club was initiated by Dr. Raveendranath Nayak, Director of School of Management who believes that venturing into various cultures and understanding them is an integral part of the management. The Inaugural of the club was held on 30-07-2016 at School Of Management, Manipal. The event was attended by Chief Guests Dr. Karunakar A. Kotegar (Deputy Director, International Collaborations, Manipal Academy of Higher Education and Chairperson of IAESTE and AIESEC), Dr Raveendranath Nayak (Director, School Of Management, MU), Professor Chetana Maddodi, Faculty Advisor of the International Student Exchange Club.
Mr. Swastik Das, the president of International Student Exchange Club, emphasized on the importance of the Club in the college and how one needs to understand different culture since business has global. The inspiring thoughts were shared by Dr. Karunakar A. Kotegar. He conveyed the importance of being a part of this club and how it can play a major role in the individual's personality. He also briefed about the functionalities of AIESEC and IAESTE as well as its benefits for the student.The Club also unveiled the Logo and tagline "Reach the world and touch the sky" at the event.
The student coordinators of AIESEC and IAESTE shared their experiences of International visits and also explained the process of applying for paid International internships.