Sardar Vallabhai Patel Walking Club Inauguration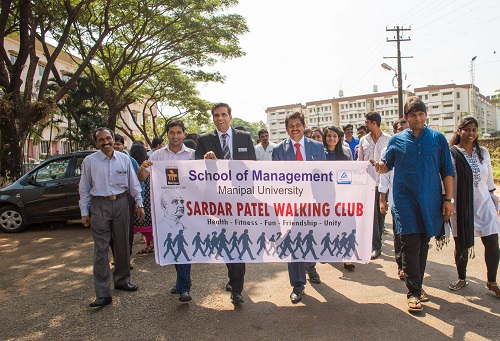 Sardar Vallabhai Patel Walking Club Inauguration
School of Management, Manipal Academy of Higher Education, inaugurated Sardar Vallabhai Patel Walking Club and organized a health walk event on 31st October 2015. The event was inaugurated by Mr Jayakar Shetty, General Manager, Badagabettu Credit Co-operative Society Ltd, Udupi along with Dr Raveendranath Nayak, Director, School of Management.
"A strong body is house for a strong mind" remarked, Dr Raveendranath Nayak in his address to students and faculties. He also shared his concerns on alarming rates of coronary diseases among the business executives and diminishing focus placed on the health and fitness in a society that is caught in a chaotic, frenzied spiral of chasing money, power, success and a wilder, faster pace of life. He urged students and faculties to regularly take brisk walks with friends for fun and fitness. The event was conducted in commemoration of the achievements of Sardar Vallabhai Patel, the Iron man of India, on his Hundred and fortieth birth anniversary which is celebrated as 'Rashtriya Ekta Diwas' across the nation. Mr. Jaya Shankar Shetty remarked that Sardar Patel's ideology and heritage cannot be forgotten and it's our responsibility to relive his ideals and legacy to ensure we are united and we stay united. Students and faculty spoke on the importance of unity among diversity and Sardar Patel's Role in Integrating States and keeping India united as we see it today.
The walking club marched off by releasing of tri color balloons by singing "hum honge kamyab". The faculty and student marched in harmony spreading the message of unity and commemorating the legend Sardar Patel and his ideals.
Ms. Pooja Tadhani, first year MBA student, SOM, welcomed the gathering, Mr Pranav Mishra, Second year MBA student, SOM explained the significance of the day and Prof. Suraj Francis Norohna Assistant Professor SOM, proposed the vote of thanks. Ms. Abgail Deena Grace, Second year MBA student, compered the event.