Saraswati Pooja Celebration at School of Management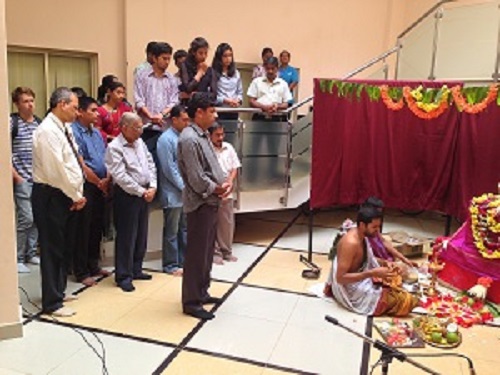 On the auspicious day of Saraswati Puja,  the students and faculty of School of management, Manipal Academy of Higher Education, came together to seek the blessings of the goddess of knowledge, music, art and culture.
The ritual was graced with the presence of Dr. Raveendranath Nayak, Director School of Management, Mr. Sandeep Shenoy, HOD Department of Commerce, and all the teaching faculties and students.
Be it any cultural event Christmas, Saraswati Puja or Onam, School of Management has been celebrating different festivals with the same fervor. Believers as well as non-believers, all came together under one roof to celebrate these festivals. Saraswati Puja is just another attempt by the students and staff to preserve the Indian culture and to impart a sense of respect towards long-established traditions. These celebrations ensure that students find a home away from home. Both the faculty and students joined hands together, with great zeal to make the event a memorable one also evoking the blessing of the goddess of knowledge to have a successful academic and carrier growth. The rituals were conducted by Shri Rushikesh Aithal, who not only performed the Pooja but also enlightened on the concept of worshiping Goddess of knowledge, ending the event by serving prasad to everyone present.