National Conference on Women Empowerment: Create, Nurture and Transform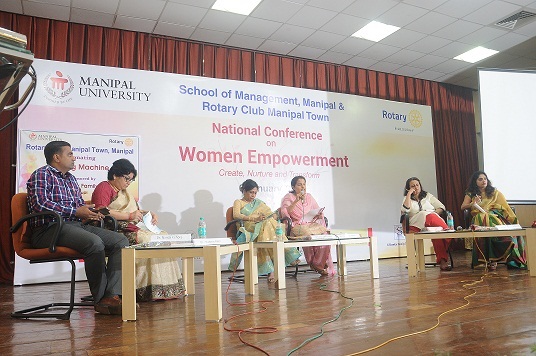 National Conference on Women Empowerment: Create, Nurture and Transform
School of Management (SOM), Manipal Academy of Higher Education in association with Rotary Club Manipal Town has organized a National Conference on 'Women Empowerment-Create Nurture and Transform' recently.
Rtn. PHFD S Ravi District Governor International Rotary District 3181 was the chief guest. Dr. H S Ballal, Pro Chancellor Manipal Academy of Higher Education inaugurated the conference. Mrs. Rtn. Maithili Ravi, Mrs. Indira Ballal, Mr. Satish Kumar senior officer, Vijaya Bank, were the guest of honor. Dr. Raveendranath Nayak, Director, SOM welcomed the gathering. Dr. Smitha Nayak coordinator of the conference, Mr. Sachidananda Nayak, President Manipal Rotary Town, Rtn Dr. H Shantharam, Rtn. K Jai Vittal, Rtn. Subramanya Basri, Prof. Suhan, Ms. Sonal Nayak were present.
About 20 women achievers were facilitated in the conference. Four women beneficiaries were given sewing machine donated by G Shankar Family Trust.
The themes pertaining to women empowerment deliberated in the conference include- Corporate leadership for gender equality, Women Empowerment issues and challenges, Role of women self-help groups, Entreprenurial opportunities for women, Empowerment of women for healthy community development.
Women representatives from Government and non-government organisations, Educational Institutions, Small business groups, take part in the brain storming session, group discussion and interactive sessions of the conference.