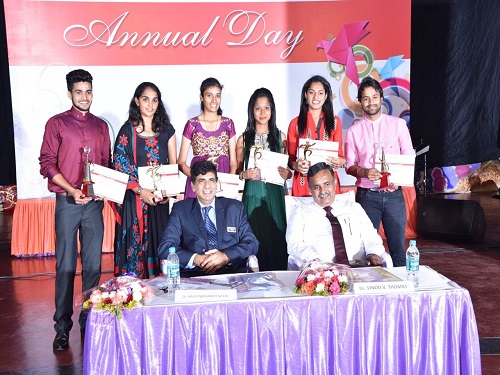 School of Management, Manipal Academy of Higher Education celebrated its 16th annual day on 29th November 2016 in KMC Greens.
Dr. Raveendranath Nayak, Director, School of Management Manipal Academy of Higher Education, unveiled the annual report, reflecting the achievements of the institute in learning, teaching, research and engagement in the preceding academic year. He also shared his vision of scaling new heights in the coming years and ultimately placing SOM among the Top -10 B-Schools in the country.
Dr. Vinod V.Thomas, Registrar Evaluation, Manipal Academy of Higher Education was the chief guest of the function. He addressed the gathering and applauded the college achievements accomplished so far. Dr. Satish Shetty was one among the dignitaries present in the Present at the function.
Awards were facilitated to the achievers from academic and Co-Curricular areas. Ms. Roopa Modem second year MBA student from Healthcare was awarded with the Gold Medal which was initiated by Dr. Satish Shetty Charitable trust in the name of his daughter Ms. Khyati Shetty who was the alumni of School of Management. This has set a precedence of awarding Gold Medal to outstanding students every year.
After the Award Ceremony students and faculty of School of Management performed a beautiful cultural extravaganza which was navigated by Ms. Preethica Furtado and Mr. Adithya Kamath.
'Bhansuri' orchestra from Kateel enthralled the crowd with their electrifying music.
Dr. Sagarika Kamath, Associate professor, SOM, welcomed the gathering. Dr. Savitha B, Assistant Professor, SOM proposed the vote of thanks. Dr. Smitha Nayak, Assistant Professor, SOM was the master of the ceremony.