Zenith Sports Club Inauguration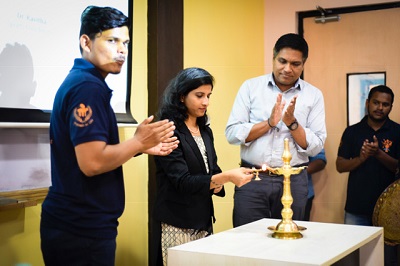 ZENITH, the sports club inauguration was held on 21st September, 2018 at School of Management, Manipal. Dr. Shobha M.E, Joint Secretary of sports council, MAHE, was the Chief Guest for the inaugural. Dr. V.K. Ranjith, faculty of School of Management, Manipal, Dr. Kavitha, Co-ordinator of sports club, faculty members and the students attended the inauguration. Ms. Harshitha from 2nd year MBA was the Master of ceremony and welcomed everyone gathered at the venue. The program began with the national anthem and Gods blessings were invoked through a prayer song by Alba of 2nd year from MBA General.
Mr. Sudhish from 1st year general MBA welcomed the dignitaries, faculty members and students gathered. A new logo was launched for the sports club 2018-2019. Mr. Athul Mohan, Vice-President, introduced the Chief Guest Dr. Shobha M.E. Mr. Vinith, 2nd year MBA florally welcomed the chief guest. Dr. Shobha M.E addressed the gathering. She also mentioned the importance of team work in smooth functioning of the club and motivated every student to take part in sports. Dr. V.K Ranjith shared his idea with the gathering.
Mr. Sachin Shetty, President of sports club introduced the Board of members to the gathering. The President also shared the previous years report and the plans for the upcoming events and the annual sports meet. He also mentioned that the club's main goal is to try their level best to ensure SOM reaches the highest point as the name states. Mr. Nikhil Feroz from 1st year MBA delivered the Vote of thanks. A Memento was gifted to our Chief Guest. That brought us to the end of the inauguration program of sports club.