OP-NOTCH Club Inauguration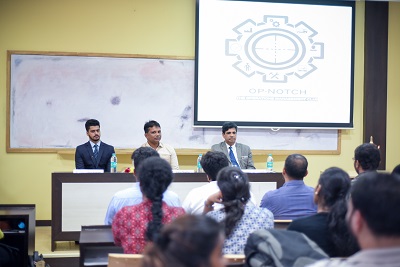 OP-NOTCH, The Operations management club inauguration was held on 31st August, 2018 at School of Management, Manipal. Mr. Vikas Shetty, an alumnus of our college was the Chief Guest for the inaugural. He is the owner of Arjun Industries, Bramhavar. Dr. Raveendranath Nayak, Director of School of Management, Manipal, Dr. Yogesh Pai P, Co-ordinator of Op-Notch, faculty members and the students attended the inauguration. Ms. Anchal Purohit from 2nd year MBA was the Master of ceremony and welcomed everyone gathered at the venue. The program began with the national anthem and Gods blessings were invoked through a prayer song by Gloria of 1st year from MBA healthcare.
Mr. Pavan Paharishit from 2nd year global MBA welcomed the dignitaries, faculty members and students gathered. A new logo was launched for the OP-NOTCH club 2018-2019. Ms Alisha Aranha, Vice-President of OP-NOTCH launched the logo. She also introduced the Chief Guest Mr. Vikas Shetty. Ms. Nikita, 2nd year MBA florally welcomed the chief guest. Mr Vikas Shetty addressed the gathering. He also shared his experience from this institute. He also mentioned the importance of team work in smooth functioning of the club. Dr. Raveendranath Nayak shared his idea regarding innovative research topics to be undertaken by the students for their thesis.
Mr. David Gilbert, President of OP-NOTCH club introduced the Board of members to the gathering. The President also shared the previous years report and the plans for the upcoming events and conclave. He also mentioned that the club's main goal is to foster innovative ideas among the students by conducting events through OP-NOTCH. Mr. Vaishnav V.P from 1st year MBA delivered the Vote of thanks. A Memento was gifted to our Chief Guest. That brought us to the end of the inauguration program of the OP-NOTCH club.